Alumni Spotlight: Natasa Skrbic - CEO of ZdraviJa
Apr. 16, 2018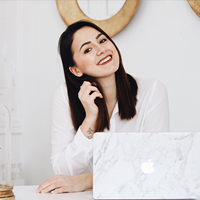 Get to know Webster Vienna Private University Alumna (class of '16) and owner of the website/magazine ZdraviJa, Nataša Škrbić.
Natasa, what made you choose Vienna, and Webster Vienna Private University? 

My sister studied at Webster and thoroughly enjoyed her studies, so I decided to apply as well. Vienna is one of my favorite cities and I wanted to live there for part of my life.
What did you like the most about studying at Webster?

Studying at WVPU was definitely more than I could have ever wished for. I loved the fact that we were able to take diverse courses and that our programs were taught in small class sizes. In addition to my studies, what I appreciate the most are the friendships that I have made and the people that I have met.
How did you get your idea or concept for the ZdraviJa?

Apart from Webster, I studied health coaching at the Institute for Integrative Nutrition. When I graduated from Webster, I wanted to combine my media studies and health coaching studies while helping as many people as possible to live healthier and better lives, so I created ZdraviJa.
What was the most difficult step at the beginning?

It was very difficult not to give up. Every beginning is hard, but it is important to work and be persistent. It was hard to work every day without earning any money, but luckily that period is over.
What made you to choose this kind of project?

Since I can remember, I knew that I wanted to do something that people would benefit from. My goal was to help people understand how important health is, and to educate them all the while running a successful enterprise. I am aware that many people in my country do not speak English and I know that it is really hard for them to find information about health and healthy lifestyles.
You studied media communications, how do you think this helped prepare you for your current project?

Studying media communications was helpful when it came to my current project, since I am using all the knowledge that I gained during my studies. What I love the most about the undergraduate media communications major is the fact that I have learned different things, from marketing and communications to photography and production.
What is unique about your project?

I believe that the brand itself is unique. Many magazines write about negative and sad topics. I have decided to focus only on positive news and useful topics that will help people and make them smile. Moreover, I believe that the most unique thing is the fact that I am (as the CEO) so young. I think I am the first Health Coach in Bosnia and Herzegovina and I really want to share my knowledge with everyone.
What is the mission?

To help people live healthier and better lives by giving them advice and support.
Are you working alone or do you have employees? If you do work with employees, what do you look for in an employee?

Currently, I have a team of six people. My team has changed a lot from the beginning, but right now I am grateful and satisfied with each member of my team. When choosing an employee I make sure that that person is willing to work and learn. The job itself is dynamic and interesting and I need someone who is ready to love this brand as if it were its own baby, and someone who is willing to learn new things every day.

Do you work locally or globally?

Currently we are based in Bosnia and Herzegovina, but we also operate in Croatia and Serbia.
What are your responsibilities?

This is a difficult question, haha. I have many responsibilities. First of all, I have to ensure that all employees are completing their tasks. I am the one who looks for clients and communicates with them. I take care of clients, contracts, and the overall business strategy. Moreover, I read and edit every article that is published for the magazine and I manage our social media channels. These are just some of the things that I do on a daily bases. Without a doubt there are many more tasks each day.
What is the plan for the nearest future (1 year)?

Right now we are focusing on expanding the brand and the business itself. We are moving towards ecommerce, and I am really looking forward to that.
What is the long-term plan?

Once the business is well established in the Balkans, I would consider moving to a new market. I will make sure to keep you in the loop, hehe.
Do you still keep in touch with your classmates from WVPU?

Yes, of course! I am even in contact with some of them on a daily basis. As I said previously, I value friendships that I have made at WVPU the most. People that I have met will stay in my heart forever. Moreover, I am still in contact with some professors as well.
Do you plan on translating your magazine to English?
For the moment, no. Once we decide to enter the new market, we will translate it to the language of that market.
Do you have a motto or quote that you live by?

"Everything happens for a reason." I truly believe that.
What are your favorite memories from your time at Webster?

It is very hard to put all my memories from Webster in one sentence. I would say that I will remember the friendships I have made during my studies the most.
If you could give advice to the current students at Webster, what would you tell them?
Enjoy and learn as much as possible. Once you graduate you will realize that Webster is your second home and you will be so grateful that you have studied there.
News by Topic
Tag Categories
News by Topic
Tag Categories