Alumni Spotlight: Alumni Event - WebTalks with Christoph Strasser
Nov. 6, 2018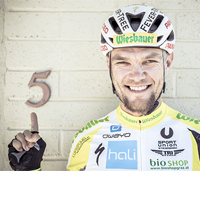 The Alumni Association has the distinct pleasure of welcoming Christoph Strasser to our annual WebTALKS event on Nov. 29th, 2018 at 18:30.
Christoph Strasser won the Race Across America Challenge, widely known as the most difficult bicycle race, two years after suffering multiple broken bones in a car accident. Strasser then went on to set world record times in crossing Australia from Perth to Sydney and at the Velodrome in Grenchen. Due to several health issues and unpredictable incidents in his life, he had to stop for a while but attained a comeback in 2017 starting a record-attempt in Australia. He crossed Australia in a new record time and set a new world record. A few months later he won RAAM for the 4th time and in the same year he started his 24hr-world-record attempt at the Velodrome in Grenchen (Suisse). He was able to set a new world record. In 2018, he won RAAM for the 5th time and two months later he crowned himself as the first Austrian Champion in ultra-cycling at the Race Around Austria Challenge.
At WebTALKS, Christoph Strasser will be sharing with us his inspiring journey in which he experienced unforeseen challenges, recovery, and immense mental strength. The presentation will be given in English. Those who attend will have the opportunity to purchase Christoph Strasser's book and get it signed by the author himself.
Important to note about our event:
When: Thursday, November 29, 18:30
Where: Palais Wenkheim, Praterstrasse 23, Vienna, Austria
Students, alumni, staff and faculty are encouraged to register as soon as possible. Registration will open to the public as of November 12th, 2019. Please register by writing an email to: alumni@webster.ac.at
We look forward to seeing you there.
News by Topic
Tag Categories
News by Topic
Tag Categories