Webster University Launching Center for Innovation and Professional Development
Oct. 26, 2018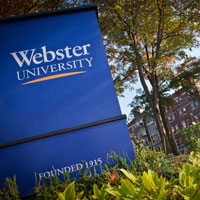 Webster University is launching a Center for Innovation and Professional Development (CIPD) to create and implement a wide range of collaborative programs in the public and private sectors.
This initiative is the outcome of an implementation team of administration, faculty and staff members, created in spring 2018, to explore the development of continuing, professional, and non-credit education offerings.
The Center (www.webster.edu/cipd) will enable Webster University to develop innovative non-credit and interdisciplinary for-credit programs and initiatives beyond its traditional for-credit programs, courses and markets.
"This Center will enrich our students' educational experience, in part by helping them engage in more activities that bolster their professional acumen," said Julian Schuster, Webster's provost, senior vice president and chief operating officer. "It will also benefit the communities we serve by channeling the strengths of Webster's global network toward addressing economic and social challenges and opportunities in the public and private sectors."
The CIPD will be a part of the portfolio of John Pyle, Webster's chief innovation officer and vice president for new business, and led by its co-directors Profs. Gary Renz and Joe Roberts, who are faculty members in Webster's George Herbert Walker School of Business & Technology.
"Noncredit instruction is an important supplement to traditional for-credit education, both to more fully address the needs of our communities and to inform our own development of alternative credentialing and future for-credit programming," Renz said.
The Center's activities will emerge in phases. The first phase will develop and deliver non-credit professional development and continuing education seminars and programs, incubate interdisciplinary initiatives, and administer Webster's existing Audit for Enrichment program.
"The newly created Center for Innovation and Professional Development at Webster University represents an opportunity to bring the community to campus and take the campus to the community to enhance our students' educational experiences" Roberts said.
Later phases will explore opportunities to seek grants and contracts for the Center's activities, develop seminars and workshops, and identify community based research opportunities for faculty.
tags:  academics, faculty, home page, provost, center for innovation and professional development, school of business and technology, webster today,
News by Topic
Tag Categories
News by Topic
Tag Categories