Marketing Expert Svend Hollensen Visits Webster Vienna through EU's ERASMUS+ Program
Dec. 5, 2018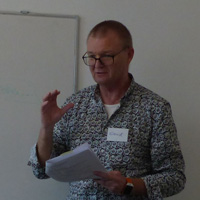 Webster students at the Vienna campus enjoyed a week of programming from a visiting guest from the world of marketing and consulting.
Dr. Svend Hollensen, CEO and Associate Professor of Hollensen ApS, the University of Southern Denmark, and EURO-FH (University of Applied Sciences), is an internationally recognized textbook author, business consultant, and researcher.
Hollensen visited Webster Vienna for five days this November as part of the ERASMUS+ mobility program.
Hollensen gave a presentation to students and faculty about his career as an author and consultant. He also held two guest lectures on topics in international marketing.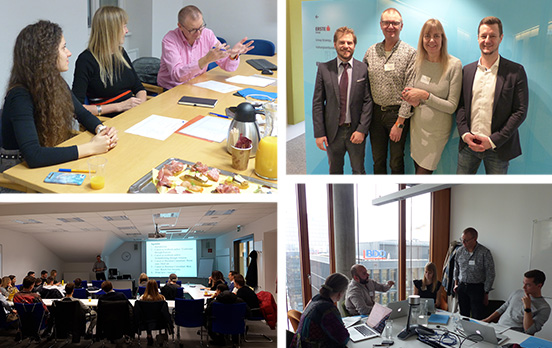 While in Vienna, Hollensen mentored two groups of business and management students at a strategic workshop at Erste Bank where they acted as his junior consultants. Senior strategist Peter Weber and head of Strategic Initiatives & Performance Management at Erste Group Bank AG, Armin Blassnig, hosted the event and provided students with feedback on their presentations.
Hollensen also chaired a case study workshop on influencer marketing that featured CEO Ilja Jay of TrueYou. The topics covered included practices and trends concerning micro-influencers and blogging. Webster students writing bachelor and graduate theses on influencer marketing attended the workshop.
All of these activities were well-attended and very well-received by participants from within and outside of the Webster Vienna community.
About ERASMUS+
ERASMUS+ is a program adopted by the European Union to promote education, training and sport amongst its citizens to help tackle socio-economic issues and promote growth, jobs, equity and social inclusion.
Webster Vienna Private University was awarded the ERASMUS charter in 2015. ERASMUS will help Webster Vienna Private University (WVPU) achieve its mission to transform students for global citizenship. When considering partner institutions for ERASMUS, WVPU will seek institutions with a compatible educational philosophy, namely those place a high value on joining theory/research and practice, provide an international perspective, value small class sizes and individual attention. 
tags:  academics, extended campus, global, webster life, webster today, school of communications, home page, vienna,
News by Topic
Tag Categories
News by Topic
Tag Categories