European Parliament Internship: Patricia Haberberger
May. 2, 2018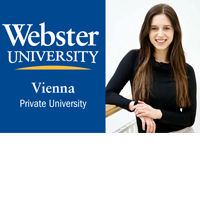 For many, the three to four years spent in university can be some of the most formative years of one's life. Students grow not only through what they learn in the classroom but also by opportunities they take part in outside of the classroom. Webster Vienna sophomore, Patricia Haberberger is making the most of her international relations studies by securing an internship with the European Parliament in Brussels and Strasbourg. Below you can find out more about Patricia, details on her internship, and what advice she would pass on to other students looking to obtain a similar opportunity.
Please tell us a little bit about yourself.
My name is Patricia Haberberger. I am 20 years old and am in my sophomore year here at WVPU. I studied for one year at the University of Vienna, political science and translation studies in Romanian, French, German and English. I decided to transfer to Webster Vienna in order to study International Relations and Economics. In the future, I aspire to become a diplomat.

You will be a part of an exciting internship opportunity this summer! What is it and how did you find out about it?
I am interning at the European Parliament, both in Brussels and Strasbourg, for an Austrian fraction. The internship should last about eight weeks and I will be working with the delegates. A friend of mine informed me about this internship opportunity. I was super nervous about the application process, if for whatever reason it wouldn't work out. But after a review of my application and a phone interview, I was offered the position in October of 2017.
The international relations faculty is always willing and excited to assist you in every sense of the word. As a student, that is an amazing benefit.

So you have known for a while that you would be interning with the European Parliament this summer. Throughout the application process, or in your academic career here at Webster Vienna, have you had any assistance that you believe has helped you secure such a prestigious internship?
Although I had intended to apply for this internship before I started at Webster Vienna, professors and courses offered at WVPU have certainly guided and prepared me for this experience. The international relations faculty is always willing and excited to assist you in every sense of the word. As a student, that is an amazing benefit. You can really talk to them about your interests and one of our faculty members, whether it be Dr. Schubert with Middle Eastern studies or Dr. Algieri or Dr. Honeck on EU/Asian relations,  is prepared and excited to guide and assist you. And of course they are hyper-well educated! They really know what they are talking about!

What are you most looking forward to about being in Brussels and the experience of this internship?
Gaining a better insight into what I hope to do in the future. If you have not experienced the field for yourself or have not seen how it works, then how are you supposed to choose your career? I am also looking forward meeting a variety of interesting people; there will be young interns from all over Europe, approximately 5-6 from each EU member state. The experience will help me realize if I actually want to pursue a career in diplomacy.

What have you learned during your studies at Webster Vienna that has brought you to where you are so far?
I remember the first day at Webster when Dr. Brutschin gave an introduction speech on the topic of international relations and she clearly stated, "Internships. Internships. Internships!"  Because international relations is also a networking field and these internships serve both the purpose of personal career growth and creation of important connections. Apart from specific courses, it is really the guidance of the faculty that has helped me in my academic career.

Last but not least, what advice would you give to students also looking to pursue internships in international relations?
I feel like the field of international relations is highly competitive so you have to do a lot! There is always a person who speaks more languages than you do; who has more internship experience; whose CV is better than yours. So you must aim to be a high achiever! I try to use all available opportunities, even though, once in a while, it can be stressful. But it is ultimately worth it.
We would like to thank Patricia for the time she took to have this interview with us and wish her all the best in her upcoming internship.
News by Topic
Tag Categories
News by Topic
Tag Categories