Event Management Career Lunch: Maryam Yeganehfar
Apr. 18, 2018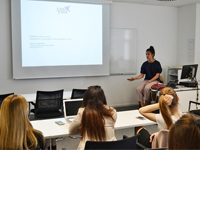 On April 17, 2018 Webster Vienna Private University's Career Center hosted an exciting career lunch with Maryam Yeganehfar, WVPU alumna and owner of yamyam event production. Students had the opportunity to get an in depth look at event management and the skills that are needed for a career in the industry.
Maryam started by discussing her experience entering the event production industry and some of the challenges that have come up along the way. Maryam also shared valuable insight on her last ten years as a business owner in Vienna. Regarding event production, she said, "You have one opportunity to get it right. That's a challenge, but it's also what keeps it interesting."
During a light lunch all open questions were answered. We thank Maryam for her time, her openness and friendly and informative approach and hope to see her again soon.
Click here to view more pictures from the event.
News by Topic
Tag Categories
News by Topic
Tag Categories