Geneva Hosts Event on Empowering Girls through Technology
Apr. 5, 2018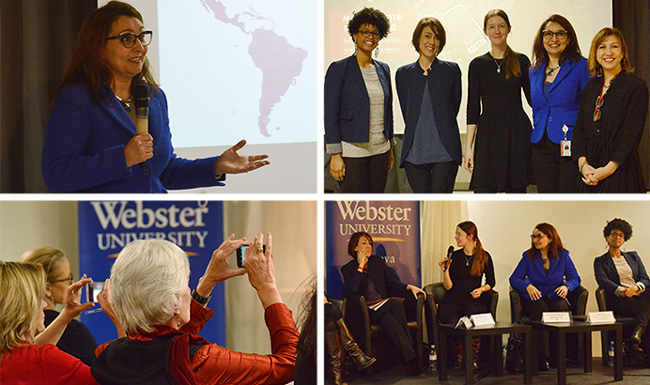 Last month the Media Communication Department and the Centre for Creativity and Innovation at Webster Geneva celebrated International Women's Day with a special event on the theme of empowering girls through technology.
Sarah Grosso, adjunct faculty in media at Webster Geneva, organized the event, which featured representatives from the Office of the United Nations High Commissioner for Human Rights, ITU, Plan International and UNICEF sharing examples of how their organizations are using technology to inspire girls around the world.
ITU has since promoted this event as part of a series around the topic.
Drawing on her humanitarian experience in Nepal and Syria, Hanaa Singer described some of the multiple ways that UNICEF is using technology to help and empower girls in these challenging settings. Technology is being used to boost girls' health and education. In besieged areas, Facebook was used to communicate with mothers about vaccination campaigns and Facebook and WhatsApp informed students about exam times and also helped them with revision. 
Roxanna Widmer-Iliescu stressed the importance of building digital literacy given the increased prominence of technology in everyday and professional life. She presented the work being done by the ITU to combat some of the negative gender stereotypes that deter girls from entering ICT careers.
Read more about the event and the panelists in this Webster Geneva story. It was also broadcast via Facebook Live, video for which can be found here.
tags:  academics, global, school of communications, geneva, webster life, webster today,
News by Topic
Tag Categories
News by Topic
Tag Categories