Webster International Relations Students Experience Conflict Mapping, Assessment in Bangkok
Mar. 13, 2018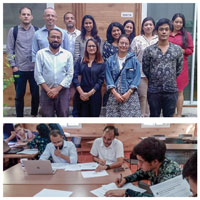 Webster University Thailand and Mahidol University collaborated on a one-day training seminar for undergraduate and graduate students from both Mahidol and Webster as well as PhD candidates from Mahidol's Human Rights and Peace Studies program.
Participants were introduced to the principles of conflict mapping, which serves as a transferable and practical rubric for the analysis of social conflict in a range of settings. Many international development agencies utilize a similar approach to the analysis of social conflict in their intervention planning.
Conducting the seminar was Kenneth Houston from the International Relations program at Webster University Thailand. It was held at the Salaya Campus outside Bangkok by Mahidol University International College (MUIC) and the Institute of Human Rights and Peace Studies. 
Equipped with the essential rubric, participants undertook a test conflict assessment using a historical conflict that allowed access to primary source material. Using the mapping concept, they developed a preliminary analysis of this conflict and reflected on their findings.
Students enjoyed the experience and said the seminar strengthened their conceptual repertoire in approaching complex problems.
Learn more in the Webster University Thailand story.
tags:  global, webster life, webster today, students, faculty, international relations, thailand,
News by Topic
Tag Categories
News by Topic
Tag Categories