Students as Junior Consultants for Erste Bank
Nov. 27, 2018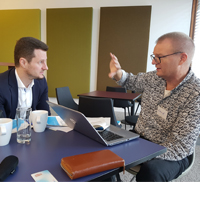 Business and management students got the chance to act as junior consultants under the guidance of business consultant Dr. Svend Hollensen at a workshop on strategic positioning at Erste Bank in November.
Two student groups undertook analyses and presentations that included strategic managerial recommendations for Erste Bank. Senior strategist Peter Weber (in the photo above, left) and head of Strategic Initiatives & Performance Management at Erste Group Bank AG, Armin Blassnig, hosted the event and provided students with feedback on their presentations. The workshop was initiated by Dr. Pernille Eskerod of the business and management department. It was made possible through funding by the ERASMUS+ mobility program.
All participants found the event innovative, inspirational and value-adding – and Peter Weber and Armin Blassnig invited Webster to bring more students for similar events. Webster Vienna would like to thank Dr. Hollensen, Erste Group Bank and the ERASMUS+ program for this opportunity for our students to gain real-life experience.
News by Topic
Tag Categories
News by Topic
Tag Categories