World Class Kung Fu and Chi Kung Master Visits Webster Thailand
Jan. 24, 2018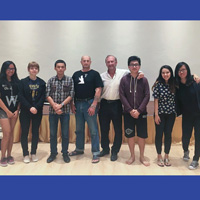 Webster University Thailand hosted Iain Armstrong, a Kung Fu and Chi Kung master with Nam Yang Pugilistic Association, for two days of activities with students as part of an event for the Student Psychology Club.
Every semester the Student Psychology Club at the Cha-Am, Thailand, campus, under the leadership of Psychology Department coordinator Anthony Rhodes, schedules an event to promote psychology, as well as educate and practically demonstrate beneficial psychological principles and applications to the Webster student body.
During the Fall II term, the Psychology Club invited Armstrong, who conducted two days of training in Chi Kung with 25 Webster students. Activities also included an Iron Shirt demonstration, where he demonstrated the power of the mind over matter.
Students enjoyed the instruction and the training provided a basis for learning how to personally integrate the healing energy of Chi Kung (sometimes referred to as Qi Gong) to reduce stress and anxiety, and thus improve one's quality of life.
Learn more in the Webster University Thailand story.
tags:  college of arts and sciences, global, webster life, psychology, webster today, thailand,
News by Topic
Tag Categories
News by Topic
Tag Categories