Latin Cooking Night
Apr. 13, 2018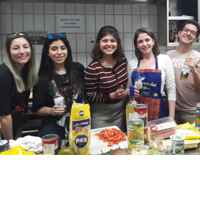 Community, fun and some Spanish – that are the ingredients to cook up a delicious meeting of the Spanish Club. On April 11th, in cooperation with the International Student Officer of SGA, the newly founded Spanish Club organized a Latin Cooking Night to celebrate and share the unique cultures of the students.
Together, they prepared, cooked, chopped and baked traditional meals from the Peruvian, Venezuelan, Mexican and more kitchens.
Sophomore Maria Villanueva, a Webster student from Venezuela happily remembers: "It was an amazing multi-cultural activity! We had so much fun getting everyone involved, and the food was delicious!"
Of course, some latin rythms were part of the event as well which turned into a cheerful cooking party where also the residents of our student dorms were gladly invited to join and taste Arepas, Burritos and other exquisite specialities.
 "It was a great event in which non-Spanish native speakers got to practice their Spanish while cooking traditional Latin American food.", praises Mauro Ortiz, a graduate student from Bolivia.
Buen Provecho!
The Spanish Language and Culture Club at Webster Vienna is organizing various events to make others familiar with the Hispanic Culture. The Club also "provides students the opportunity to learn, practice, and refresh their Spanish skills in an informal and friendly environment".
For more information, visit the club's Facebook page.
News by Topic
Tag Categories
News by Topic
Tag Categories