LEADS Workshop: Cooking for VinziPort
Mar. 1, 2018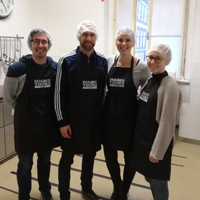 On Monday, February 26th, our LEADS students had the opportunity to spend some of their community service hours with a cooking session for VinziPort – a homeless shelter for EU citizens in Vienna. 
Together with a professional guide, who formerly also lived at VinziPort himself, the students prepared a 4 course meal for the approximately 40 men living in the shelter right now. Even though everyone was busy stirring, cutting and cooking, there was always time to ask and learn more about the topic of homelessness in Vienna and the VinziPort institution. This workshop also offered a great insight into how the social system works in Austria and other EU countries and how everyone can help to improve the situation.  
Junior student Marlene Pruschak said, "Before the cooking session I didn't really know what VinziPort does or who they are helping. I was actually a bit scared because I've never been to a homeless shelter. But it turned out to be an incredible experience! While standing there, handing out food I realised how lucky we are to lead such a life. I started putting things like food or a place to sleep in different perspectives. What struck me most, however, was our guide's story of how he ended up on the street and how Shades Tour helped him get back on his feet. This shows that these men need someone to believe in them and support them and that we can be the ones who can make a change."
At dinner, everyone got to sit together and enjoy the meals with the others while the guide also shared his personal experience with homelessness. A truly eye opening and thought provoking workshop for everyone involved.
If you want to learn more about the topic or participate in a cooking session at VinziPort yourself, check out the ShadesTour Website for more information.  
News by Topic
Tag Categories
News by Topic
Tag Categories