Leiden Students Lead 'One Billion Rising' to Raise Awareness of Violence against Women
Mar. 1, 2018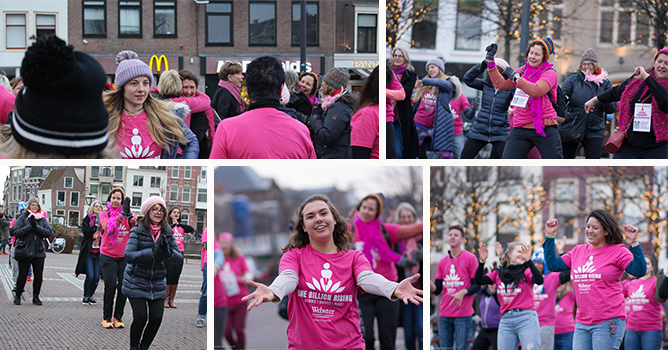 Webster University Leiden campus organizers mobilized fellow students, faculty and women's groups from the area for a "One Billion Rising" event on Valentine's Day, dancing on the Beestenmarkt in the city.
In the largest turnout yet for this annual student-led event, their flash mob danced to "Break the Chain" as part of the global campaign to raise awareness of and stop violence against women and girls.
The One Billion Rising campaign, launched on Valentine's Day in 2012, began as a call-to-action based on a UN statistic from 2011 stating one in three women on the planet will be assaulted, or raped, during her lifetime. And with total world population at 7 billion, that translates to approximately a billion victims.
International organizers in 2015 said approximately one million people in 200 countries participated in the global mass-action. This year, over 200 separate flash mobs were scheduled to perform in Europe alone on Feb. 14
Sheetal Shah, Webster Leiden's behavioral and social sciences department head, said the campus organized its first flash mob in 2013. Last year, the dance was also performed on the Stationsplein at Leiden Centraal.
"I see it as a great example of global citizenship in that students took the initiative to organize the event and for each of them, it means something and that is the best outcome," Shah said.
Shah said the larger group in Leiden reflected the wider involvement of volunteers from Bridge2Hope, a collaborative project between Webster Leiden and Christian Aid & Resources Foundation (CARF) based in the Bijlmer (Bijlmermeer), a culturally diverse area in the southeast section of Amsterdam stigmatized by its portrayal as a developing neighborhood.
"We work with women who are marginalized and have been violated sexually, physically and psychologically; therefore, it's a great synergy for our students to stand-up for those who don't have a voice," Shah said.
Video, Photos of the Event
tags:  college of arts and sciences, global, home page, leiden, community engagement, behavioral and social sciences, webster life, webster today,
News by Topic
Tag Categories
News by Topic
Tag Categories