Mauthausen Memorial Visit 2018
Apr. 12, 2018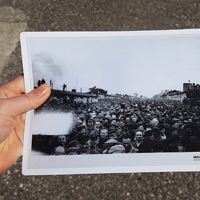 Last Saturday, some of our students took the opportunity to take part in an excursion to Mauthausen, a former concentration camp of the Nazi regime in Austria (1938-1945). Today, Mauthausen serves as a memorial to preserve the memory of the victims.
Through an interactive tour, the participants had the opportunity to learn more about the history of the place and to gain a better understanding of the past.
Sophomore Loren Sandoval said: "The experience at Mauthausen was very impactful for me. Learning about the atrocities men is capable of, made me realize how important it is to remember our past so that we do not make the same mistakes in the future."
The Student Resource Center organizes annual excursions to Mauthausen to offer students a meaningful learning experience of a difficult time in European, Austrian, and Jewish history.
For more information, visit the Mauthausen Memorial website.
News by Topic
Tag Categories
News by Topic
Tag Categories