Message from the President and Provost
Oct. 12, 2018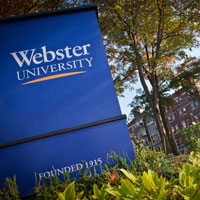 The following message from the president and provost was distributed to the Webster University community on Oct. 12, 2018.
A Message to Our Community During Challenging Times
As we enter a particularly busy time in the fall term, we are mindful of the stresses and pressures that are presented to us through social media, news outlets, and our own personal challenges daily.
This summer, The New York Times Magazine published a column that explored the "national mood" in the United States. Author Steven Hyden said, "Psychologists have suggested for years that moods are actually contagious, meaning yours are just one part of a vast, dynamic system: We take in what those around us say, absorb the sentiments behind those words and slowly begin mirroring those feelings with our own."
As a worldwide community whose values include learning, tolerance, diversity and inclusion, it is natural for us to embrace opportunities to learn from others whose stories and experiences are not our own. Those opportunities are all around us as we engage the wide-ranging topics in classrooms and campus life. We invite speakers whose perspectives can challenge our assumptions and invite us to commit to new ways of thinking and acting.    
As an academic community, our daily purpose is to support each other's learning in ways that celebrate the diversity of our experiences and perspectives. As the French philosopher Simone de Beauvoir wrote, "One's life has value so long as one attributes value to the life of others, by means of love, friendship, indignation and compassion." Through education and understanding, we can begin to extend empathy to the lives of those who surround us daily and remember the challenges we each face.
As this year continues, it seems unlikely that the current mood of society will substantially change. At Webster, we are called to advance our mission and live our values by appreciating each other's diverse experiences and perspectives as our strength. Webster will continue to be a place that strives to include, that avoids the shortcuts of damaging stereotypes, and that can hear each other's stories with the desire to learn rather than to judge or stigmatize.
We look forward to all the opportunities to learn together with and from the members of this community and our guests in the coming weeks. Take care and stay well.
Elizabeth (Beth) J. Stroble, Ph.D.
President
Julian Z. Schuster, Ph.D.
Provost, Senior Vice President and Chief Operating Officer
tags:  president, provost, home page, global, diversity and inclusion, students, employee news, faculty, webster today,
News by Topic
Tag Categories
News by Topic
Tag Categories