Stand-Up Economist Yoram Bauman
Jan. 19, 2018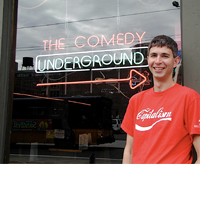 On Monday, January 15th students, faculty, staff, and guests were treated to an evening of stand-up comedy as well as a discussion about carbon tax initiatives and environmental policy with the self-styled "world's only stand-up economist", Dr. Yoram Bauman.
Dr. Bauman gave his comedic take on Mankiw's 10 principles of economics and spoke about how that spoof became the original kernel of his act and, years later, eventually landed him in Dr. Mankiw's classroom at Harvard University. The audience also enjoyed seeing some of the more memorable YouTube comments Yoram has received on his channel as well as hearing about how trade can actually leave everyone worse off. On a more serious note, Yoram also spoke about his recent experience co-sponsoring the ultimately unsuccessful carbon tax ballot initiative I-732 in Washington State. The ballot measure's goal was to bring a successfully-implemented policy from just across the international boundary in British Columbia to Washington.  
Several hundred viewers on our social media feeds were able to watch a live stream of Yoram's presentation. Did you miss out on the event? Don't worry! You can watch the presentation on our YouTube channel.
News by Topic
Tag Categories
News by Topic
Tag Categories