Student Art Exhibition: Reza Noori
May. 3, 2018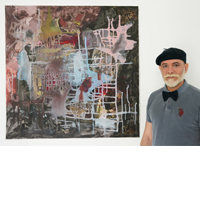 Some of you may have already noticed the beautiful artworks that are gracing the walls on the 3rd floor since a couple of weeks. Freshman Reza Noori from Iran is allowing us an insight into his world with pieces titled "Night" or "Denken" (to think).
On Monday, April 16th, Webster Vienna was holding a vernissage to officially introduce the artists and his works to our student community. Students and faculty were able to get a better insight into Reza's painting process, the history behind the paintings and his inspirations. He names his unconscious, feelings and emotions some of his greatest influences when creating a new work. 
Following the student art exhibition on Monday, Reza found these sweet words for our community:
"I am more than thankful for this amazing opportunity you gave me. This exhibition at Webster university has been my first big event in Vienna and I honestly wasn't prepared for your heart-warming feedback. The event has motivated me to do more paintings. I really appreciate your time spending in my exhibition. Also, I am thankful to Webster university colleagues that organized this event brilliantly."
Painting has been an element of Reza's life since early childhood and he took it up to a professional level at age 15. Come to the 3rd floor at Webster to indulge in his works. The paintings will be changing regularly, so don't miss out! 
News by Topic
Tag Categories
News by Topic
Tag Categories