Student Life Awards 2018
Apr. 30, 2018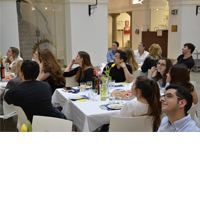 Once again, Webster University Vienna, celebrated the commitment of our students to the Webster community during the 3rd annual Student Life Awards on April 26th 2018.
The Student Life Awards honor those students who made extraordinary contributions to the campus life and community at university. This year, all faculty and students were able to nominate others for these recognitions which were reviewed by a committee to determine who takes home the awards. The awards were finally announced during a formal award evening with a guest performance by Webster's Got Talent Runner-Up Fermi Austrianto. 
The Student Life Awards 2018 recipients are:
Outstanding Student Organization – WebMUN
(also nominated: Spanish Language and Culture Club)
 
Student Government Association Award – Darina Mittelmann
(also nominated: Darya Makshyna)
 
Campus Voice Award – Julia Schaubach
(also nominated: Benedikt Kaltenboeck)
 
Outstanding Student Employee – Mauro Ortiz
 
Outstanding Freshman – Patricia Haberberger
(also nominated: Loren Sandoval)
 
Outstanding Sophomore – Anastasiia Hizenko
(also nominated: Veronica Godea)
 
Outstanding Junior – Julia Schaubach
(also nominated: Maximilian Zangl)
 
Outstanding Senior – Marie Theres Huber
(also nominated: Marlene Pruschak & Angelina Voinova)
 
Outstanding Graduate – Julia Zimmerman
(also nominated: Krista Price)
 
Making a Difference Award – Julia Schaubach
We congratulate all nominees and winners to these outstanding achievements!
Thank you to our amazing hosts for the evening - Daisy James-Weidner and Christof Wegiel - as well as our volunteers for helping with the event. 
News by Topic
Tag Categories
News by Topic
Tag Categories