Webster Leiden Spotlight: Laurens Verhagen Metman
Oct. 8, 2018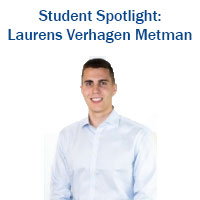 Laurens is an undergraduate majoring in International Business Administration with a minor in International Relations. In this interview from May, he discusses why he decided to study at Webster Leiden, his classes, his role as the president of GreenWeb, and his plans for the future.
Metman's Background
Metman was born in Chicago, but with both of his parents being Dutch, he spent a great deal of time in the Netherlands when he was growing up. With both of his parents went to Leiden University, he was interested in also studying in the area. Webster Leiden stood out because it is an American university that has a solid international presence. He came to Webster Leiden as a transfer student from another American university. He noted that his course credits transferred over to Webster Leiden easily.
Time Well Spent at Webster Leiden
As an International Business Administration major, Metman has taken a number of courses that have sparked his interest. So far, he has really enjoyed is global security course taught by Marije Balt. During the course, they took a few trips to The Hague, a city that sits on the western Netherlands. Metman described these field trips as a great experience for international relations students because the city has many international organizations to learn about in a hands-on setting. He also notes that he enjoyed business technology courses.
Outside of the classroom, Metman is the president of GreenWeb, an environmental club. He has completed many projects through Green Web to promote sustainability on the Webster Leiden campus. The club most recently put recycling bins in each classroom, organized an Earth Week, and Meatless Monday. Metman also plays on the soccer team at Webster Leiden that has allowed him to travel to other countries and cities, many of which where he has met many students who are studying at other global campuses' of Webster University.
Future Plans
After graduation Metman seeks to attend graduate school. Eventually, he would like to work for the ILO, the International Labor Organization. Here he would like to utilize both his business and international relation skills to promote job creation for young people while boosting local economies.
Read the full story on Metman on Webster University Leiden's website. 
tags:  academics, extended campus, global, webster life, webster today, leiden, international business,
News by Topic
Tag Categories
News by Topic
Tag Categories