UN Career Lunch with Dr. Rahimova
Feb. 26, 2018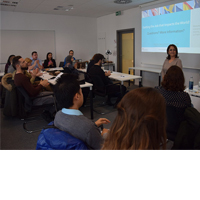 On Wednesday, February 21st, the Career Development Center hosted another insightful guest in their ongoing Career Lunch series. Dr. Matanat Rahimova, Career Consultant and Coach with TalentTech, addressed 30 plus Webster Vienna Private University students on "How to Get a Dream Job in the United Nations and International Organizations in Austria and Abroad".
Dr. Rahimova's comprehensive presentation covered topics from types of positions available in the UN, to resources and tips for students during the application process. WVPU students had the chance to ask pressing questions and get one-on-one advice from Dr. Rahimova regarding their personal career aspirations while enjoying delicious Mediterranean food from Vienna's infamous Naschmarkt. Not only was the presentation interactive and informative, but attendees of the career lunch were also challenged to jumpstart their careers in international relations.
The event had a wonderful turn out as students filled the seats eager to listen to and meet Dr. Rahimova. In addition, the event was live-streamed through WVPU's Facebook page. If you were unable to attend but would like to hear this invaluable information, please check out a video of the event here.
Pictures can also be found here.
You can find a comprehensive summary of information from the event here.
News by Topic
Tag Categories
News by Topic
Tag Categories