Vienna is Ranked the World's Most Liveable City
Aug. 21, 2018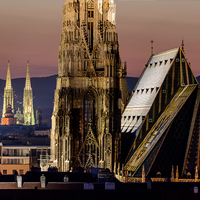 Some wonderful news has come out this year which is no news to anyone who has ever set foot in the city of music and dreams -  Vienna, Austria.

Not only has Vienna ranked #1 for 9 consecutive years for having the highest quality of life in Mercer's Quality of Living survey, Vienna has now also ranked #1 for being the "world's most liveable city" by the Economist Intelligence Unit's Global Liveability Index.
Vienna is a hidden gem nesteled in the heart of Europe. Our public transportation system is affordable, reliable and can get you to almost any point in the city meaning students do not need to invest in automobiles and other expensive forms of transportation. It is a safe and quite city with wonderful public events held almost every month for its residents. The classical music scene, museums, palaces and parks are treasures at the fingertips of residents and visitors of this city with an imperial past.
Webster Vienna students, staff and faculty are lucky to live and study in such a beautiful city.
News by Topic
Tag Categories
News by Topic
Tag Categories