Warwick Economics Summit 2018
Feb. 8, 2018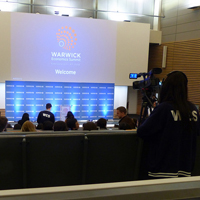 On February 1st, Webster Vienna Private University (WVPU) sent a delegation of 11 students to Coventry, England for the Warwick Economic Summit 2018.
Sponsored by the business and management department, student government association and the executive board of directors, the WVPU delegation was able to attend the prestigious summit all expenses paid. Comprised of undergraduate and graduate students alike and organized by our Warwick Ambassador Benedikt Kaltenboeck, the WVPU delegation was able to spend five wonderful days in Coventry attending the summit and exploring the beautiful country of England.
The Warwick Economic summit is Europe's biggest student led conference and international forum where talented university students listen to some of the world's most revered and inspirational speakers. The Summit's focus goes far beyond the field of economics, encompassing the broader spheres of the social sciences, including development, politics, psychology and international relations.
WVPU students who attended gained valuable knowledge via various speakers from a wide range of subject areas, such as world renowned economist, John B. Taylor; Nobel Peace Prize Laureate, Tawakkol Karman; and Former Prime Minister of Italy, Mario Monti. The conference allowed students to acquire insight from top scholars and practitioners in fields such as asset management, economics, development, and international relations.
Furthermore, students networked with experts in their specific fields and make invaluable connections with peers from around the globe. WVPU student Julia Zimmerman made use of the "Meet the Speaker" feature of the conference. After a short application process, Julia was selected to join Nobel Peace Prize Laureate Tawakkol Karman and World Bank Group Senior Vice President Mahmoud Mohieldin, along with a few other delegates, to network and ask questions in a small group setting.
While the summit was filled with unparalleled educational experiences, the trip also allowed the delegation to have a little fun. To include a social element to the event, Warwick hosted the Rainforest Ball – a black tie affair where attendees dined on delicious food and danced the night away to internationally loved music. The schedule also allotted a free day in which WVPU students explored Coventry and London, experiencing a vibrant English culture outside of the university.
Overall the summit was not only an incredible educational experience for our students, but it also a perfect demonstration of the Webster Vienna spirit. When asking the WVPU delegation what their fondest memory of the summit was, most answer that it brought the group of Webster students together, making connections that will last a lifetime. The delegation is surely thankful to be a part of such an incredible and memorable experience and the University is looking forward to attending again in the future.
To view more pictures from the summit, please visit this link.
News by Topic
Tag Categories
News by Topic
Tag Categories