WebMUN 2018 Application is open
Apr. 10, 2018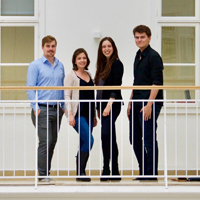 WebMUN 2018 officially began accepting applications for participants this week. Themed "The Complexity of Globalization and Issues with Human Rights," WebMUN brings students from around the world to Webster Vienna's Palais Wenkheim for a four-day conference this October.
Secretary General Maximilian Zangl says that this is a great opportunity for students to acquire new skills or hone existing ones. Student learn public speaking and research skills, as each team of participants or participant needs to research a country's stance of various committee topics.
WebMUN is also a great opportunity to become a part of a wider Model United Nations community, in which you can meet people from around the world.
"I've met people from the Netherlands, Georgia, and a lot of other places through Model United Nations," he says. "The conference offers a lot of cultural exchange and you will learn a lot about other countries during the social events and of course during the conference."
There are no barriers to entry, Zangl notes. He says, "Everyone is more than welcome. We [the organizing committee] guide participants." Students don't need to have experience – just interest or passion in the topic area.
Webster students can register to participate in the four-day conference, from October 19 through the 22, at a discounted price of 65 euro. All non-Webster students can register for 75 euro.
Students interested in becoming more involved in planning the conference should contact the WebMun Team at secretariat@webmun.org.
News by Topic
Tag Categories
News by Topic
Tag Categories