Webster's Got Talent Europe Weekend 2018
Apr. 18, 2018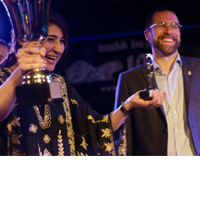 The weekend of April 13th to 15th marked the 5th annual Webster's Got Talent Europe Championship as well as the European Football Tournament between the Geneva, Leiden and Vienna campuses. 
As a new addition to the "Webster Weekend" this year, delegates of the European Student Government Associations met to discuss joined projects and strategies. 
On Friday all participants got together for the weekend's kick-off event to get to know each other in a casual atmosphere and start the competitions off. 
And Saturday morning it was finally time for the big face off of the 3 campuses. First with the annual football tournament, which thanks to the amazing weather was held outside, and then in the evening it was finally showtime for Webster's Got Talent Europe Finals.
Each year the champions of the respective local Talent Shows meet on another campus to take the chance and take home the winning trophy. 
In our 2018 show we got to see 6 vocalists perform their unique talents and styles:
First up on stage was Jerry Myint, a Geneva student who brought the house down with his own rap lyrics and performance. Followed by our very own Vienna champion Daisy James-Weidner who made an emotional tribute to the musical "Hamilton" with her song "Burn". 
Tim Meester from Leiden didn't even need background music but produced it himself using merely his voice. Beat-boxing is something he only recently discovered for himself but already landed him in the European Finals at WGT. 
Next up was Aya Abdullah from Geneva who honored her heritage with a mesmerizing accapella version of a traditional song from her home country of Iraq.
Fermi Austrianto got it on with some good old Marvin Gaye, a favorite of the crowd that already landed him the runner-up title on his Vienna home campus. 
Last but not least, Artyom Napolskiy from the Leiden campus showed off not one but two of his talents with a beautiful song written by himself and accompanied by his guitar. 
After the performances of the Leiden, Geneva and Vienna champions, our jury had the hard task to determine a winner. We want to thank our three jury members who took upon the hard task to crown this years winner: Kim Cooper (singer and song writer), Kateryna Gresenko (professional dancer) and Birgit Jung (professional dancer and judge).
Aya Abdullah (Geneva) was announced European Champion while Daisy James-Weidner took home the Runner-Up trophy for Vienna. 
Overall the weekend was a huge success and a wonderful opportunity to meet students from other campuses and make new connections within the Webster network. We can't wait to come together next year in Geneva for another round of talent, sport and university spirit. 
A big shout-out to our amazing participants and volunteers who made these events possible as well as to our organizers Jesse Alexander (Vienna), Kristina Shimkus (Geneva) and Christine Benninger (Leiden), Julia Schaubach and Ellen Faye Adams for being a co-organizer and host of the Talent Show. 
News by Topic
Tag Categories
News by Topic
Tag Categories