WEBTalks 2018: Christoph Strasser Highlights
Dec. 7, 2018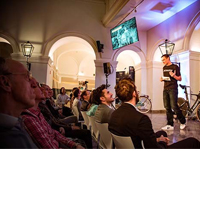 On November 29th, 2018 Webster Vienna welcomed a very special guest to Palais Wenkheim. Christoph Strasser, world record holder for setting the fastest time in one of the most grueling ultra-cycling races in modern history known as the Race Across America gave a moving speech where his message rang crystal clear "Even ordinary men, can achieve extra-ordinary things".
He shared with us the ups and downs of his incredible journey in the Race Across America challenge, and guests had a chance to enjoy a behind the scenes look at what it is like to prepare for and take part in a seven day ultra-cycling race. The advice Christoph Strasser gave in his speech about reaching success and not being afraid to reach for your goals was surely inspiring for our students, alumni, and staff.
 
After the talk, guests were given the opportunity to ask questions directly to Mr. Strasser and afterwards were able to buy his autobiography "Der Weg ist weiter als das Ziel", get the book signed, and even take a picture with him.
 

A special thank you to everyone who attended, as well as the sponsors of the evening:
Almdudler, SGA, and the Webster Alumni Association.
To view more pictures from the event please visit our Flickr account.
Photo credit: Amel Topcagic
News by Topic
Tag Categories
News by Topic
Tag Categories