Wiener Ball der Wissenschaften 2018
Jan. 29, 2018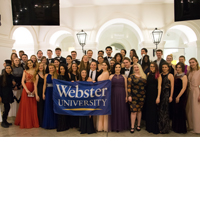 Last Saturday was a night to remember for 50 of our students.
Ball season is in full swing here in Vienna, and on Saturday, January 27th it was finally time for our students to get dressed up to the nines for the annual Ball of Sciences (Ball der Wissenschaften) in the Vienna city hall. A night full of dancing, prancing and one or two photo shoots to capture every moment in the beautiful gowns and suits.
Our Student Resource Center helped to partially sponsor the ball tickets to enable 50 students to experience this integral part of Viennese and Austrian culture.  
Thanks to a dance crash course with Gernot Pruschak, organized by the SGA, our students learned last minute steps to waltz their way through the night elegantly on the dance floor. Afterwards, our Student Government Association also organized a champagne reception to raise the glasses together to a beautiful ball night before our students took off to the city hall.
We were especially excited for our study abroad students, who took the initiative to experience our magical ball culture that night.
News by Topic
Tag Categories
News by Topic
Tag Categories