WVPU – AmCham Celebrate American Wines at Wine Tasting
Oct. 21, 2018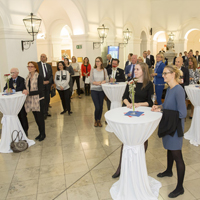 On Thursday, October 11, Webster Vienna Private University and the American Chamber of Commerce held a spectacular Californian Wine Tasting Event at Palais Wenkheim.

P.M. Mounier, a distribution company under Schlumberger, introduced the guests to wines from some of the top Napa Valley wineries.

Guests enjoyed the wide variety of wines alongside American finger foods, relaxing music and a nice evening of networking.

Guests of note include Julia Rauner-Guerrero, Comercial Counselor of the American Embassy, Dr. Wolfgang Fenkart-Fröschl, Advisor at Webster Union International, Dipl. Ing. Markin Winkler, Executive Director of Oracle Austria, Prof. Martin Kocher, Director for the Institute of Advanced Studies, and Markus Schön, Executive Director of gma services GmbH.

WVPU and the American Chamber of Commerce would like to thank Schlumberger and gma services GmbH for their support.
Click here to view pictures from the event.
Photo Credit: © AmCham Austria/Roland Rudolph
News by Topic
Tag Categories
News by Topic
Tag Categories