WVPU Hosts Spatial Econometrics Association (SEA) Conference
Jun. 25, 2018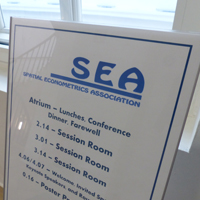 On June 11th and 12th, Webster Vienna hosted the 12th World Conference of the Spatial Econometrics Association (SEA). Nearly 80 participants descended on Palais Wenkheim from all over the world for the two day conference, which consisted of breakout sessions, poster presentations, invited and keynote speeches, a roundtable featuring preeminent scholars, as well as a gala-style conference dinner.
Spatial Econometrics explores the intersection of spatial analysis and econometrics. Some of the field's most influential researchers served as invited speakers, including Roger Bivand, Daniel Griffith, and Ingmar Prucha. Keynote speakers included both Bernard Fingleton of Cambridge University and James P. LeSage of the University of Texas at Dallas.
One young, promising researcher in the field, Kateryna Zabarina, was awarded the Jean Paelinck Prize. The prize is given out each year to a young researcher who has presented an original paper.
Dr. Antonakakis, department head of business and management, was instrumental in bringing the conference to Webster Vienna. "I got acquainted with the chairman of the Spatial Econometric Association (SEA), Prof. Giuseppe Arbia, in Rome back in 2013 during my attendance at the Spatial Econometrics Advanced Institute. In 2017 Prof. Arbia approached me with the proposition to organize the 2018 version of the prestigious SEA conference at Webster University in Vienna, which I gladly accepted. The rest is history!"
Dr. Ioannis Chatziantoniou helped to spearhead the academic program and local organization of the conference. "I am really happy that the Conference provided a forum for very interesting paper presentations and beneficial discussions on the relevant topics. The level of the studies that were presented was indeed very high." Dr. Chatziantoniou went on to say, "it should also be emphasized that a key aspect of the success of the conference was the warm participation of the SEA professorial team who offered their useful comments and insights to session presenters helping them improve their future work. Many thanks to everyone who helped make this conference a big success."
News by Topic
Tag Categories
News by Topic
Tag Categories