Dr Gaal's Global Competitive Strategies class attends the 4GameChangers Festival
Apr. 11, 2019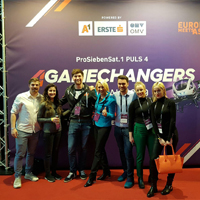 Dr. Andrea Gaal's Global Competitive Strategies class attended the third and final day of the 4GAMECHANGERS Festival at the Marxhalle Vienna.
The three-day event "consisted of sessions, panels and keynotes from Gamechangers of all ages, start-ups and companies, stakeholders from business, industry & politics, art & culture, media industry and great personalities," and featured the founder and drummer of the British rock band the Police, Stewart Copeland. Webster Vienna students also heard from the inventor of the mobile ringtone and other industry 'game changers.'
Senior student,Rima Al-Azzawe ('19), enjoyed the change of scenery from their course's usual classroom at Palais Wenkheim: "It was a great opportunity to network with young start-ups and entrepreneurs, learn about new innovations, and gain wider insight into the business world. Since I am double majoring in IR and Management, I used this unique occasion to extend my knowledge about upcoming future trends and challenges."  Dr. Gaal was as impressed with the quality of the speakers as her students were, who say they left feeling inspired. By the end of the day, she says that the students "were in heaven."
Webster Vienna students walked away from the event with a better understanding of artificial intelligence, the importance of self-management and social skills in business, and how to triumph through adversity. "I learned about factors that lead to success," says Rima.  
For more information about 4GAMECHANGERS, please visit their website.
***
News by Topic
Tag Categories
News by Topic
Tag Categories