The (Populist) Radical Right, the Internet and European Democracies
Apr. 25, 2019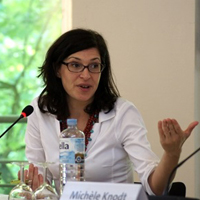 Webster Vienna's Media Communication department, in conjunction with the International Relation department, is hosting public lecture by Manuela Caiani, associate Professor at the Department of Political and Social Sciences of the Scuola Normale Superiore (SNS) of Pisa-Florence, on May 2nd at 4:00 PM (RSVP via irdepartment@webster.ac.at), within its premises, on the topic:
The (populist) radical right, the internet and European democracies
By Manuela Caiani
The electoral success of populist radical right parties in Europe is on the rise. From the recent entry of the AfD to the German parliament, to the increasing electoral support to these parties in Czech Republic, Denmark, Sweden, Hungary and Slovakia. This has concerned scholars, politicians, journalists, and mass audiences alike.
No recent political development has been more striking than the rise to power of self-identified (radical right) populist movements around the globe, whose main unifying trait is their claim to champion "the people" against entrenched selfish "elites." They include anti-immigrant, anti-globalization, ardently nationalist parties such as Fidesz in Hungary; the Law and Justice Party in Poland; and the Trump Republicans in the United States. Indeed, modern "populist" movements have a wide variety of economic agendas, even as most push against the leading institutions of the global economic order, such as the IMF, the World Bank, and multilateral trade agreements. Some, such as in Erdogan's Turkey and Modi's India, are stridently religious; others, like the anti-immigrant populisms in Europe and the United States, often feature racial and cultural themes. These surging populist movements have transformed politics within nations and across nations, so they have become central to research in every political science subfield.
Whereas many factors have been mentioned for accounting to the increasing success of the radical right in Europe (e.g. such as economic, political and cultural /migration causes), this talk will pay a particular attention to the potential role of the internet for the identity formation, national and international networking and mobilization (offline and online) of these organizations.
Focusing on more than 650 radical right groups in several European democracies (either Western or Easter&Central Europe) and combining data from a web content analysis and a social network analysis, the talk will disentangle the various functions and advantages of the use of the Web by the radical right, by critically reflecting on the risks for European democracies.   
***
Manuela Caiani is Associate Professor at the Department of Political and Social Sciences of  the Scuola Normale Superiore (SNS) of Pisa-Florence. Her research interests focus on: Populism in Europe (left wing and right wing), Radical Right (and the Internet), Social movements and Europeanization, Qualitative methods of social research. She has been involved in several international comparative research projects (Volkswagen Foundation; FP4, FP5, FP7) and coordinated research units for individual projects and grants ('Populism and Popular Music in Europe' Volkswagen Foundation 2019-2021; 'Causes and Consequences of Populism in Europe' PRIN Project-Italian team 2016-2019; 'Right wing populist organizations and the Internet in Europe and the USA' Research Grant Jubilaumsfonds, ONB, Oesterreichische National Bank, 2010-2012, project n. 14035;  Marie Curie 2011-13, FP7-PEOPLE-2009-IEF, n° 252957, 2009-2011; Post-Doctoral TRA Fellowship, START Center, 2009, University of Maryland; Funding Award, CNR-Italian Research Council, 2005). She published in, among others, the following journals: EJPR, Mobilization, Acta Politica, European Union Politics, South European Society and Politics, RISP and for the following publishers: Oxford University press, Ashgate, Palgrave, Routledge.
***
News by Topic
Tag Categories
News by Topic
Tag Categories