Microsoft Can Expect Many New Applications from Webster University Soon
Apr. 11, 2019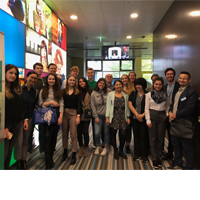 You don't get a chance every day to visit the American multinational technology company in the heart of Europe. Webster University students had this great opportunity to get acquainted with the non-traditional work environment and the people from Microsoft Headquarters in Vienna.
The tour was organized by Webster's Career & Placement Center officer, Alexandra Deubner, and spearheaded by Microsoft's Partner Development Manager, Markus Reichart.
The tour was wonderfully co-led by Rafael Radischat, Webster alumni and current Microsoft Partner Development Intern. Rafael presented the non-conservative office set-up and shared interesting facts and findings of Microsoft. Students expressed the most interest in organizational structure, rules and wide-ranging working day of Microsoft employee.
Special recognition was expressed to Markus and Rafael for the effort, their time, enthusiasm and shared insights.  "Microsoft can expect many new applications soon", concluded Loren Sandoval, Webster's undergraduate student of Psychology and Media Communication, at the end of the tour.
***
News by Topic
Tag Categories
News by Topic
Tag Categories