Again Another Great Score from a Psychology Student: 96th Percentile
May. 17, 2019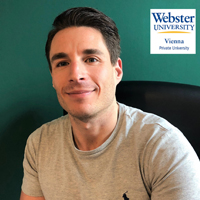 The Major Field Test evaluates students' ability to analyze and solve problems, and interpret the content from their major field of study. Several institutions worldwide require the result of this exam for admission to their programs, which means their final scores are compared with other psychology students from all over the world.
When students finish the exam, they receive a percentile rank, which lets them know the percentage of the test takers who scored below them.
In 2017, we had the privilege to announce that the student Eva Smrekar has scored in the 97th percentile of the Major Field test. This year, it's Matthew White's turn! He is also a psychology student and scored in the 96th percentile!
Matthew Louis White is from USA, Florida, and joined Webster Vienna Private University in 2018. Below there is a short interview that we did with Matthew:
Q: How did you prepare for the Major Field Test?
I went through the chapters of the "Introduction to Psychology" book and scanned most of the information. I paid a lot of attention to the vocabulary words, the highlighted words from the chapters. If there was something that I thought it was complicated then I took the time to read more about it. I read the Power points and the summaries.
Q: What was the most challenging aspect of this exam in your point of view?
The timing. When you're taking an exam like this in a computer and a little clock is up in the corner ticking down, it puts a whole different spin on taking a test.
Q: When it comes to studying, what advice do you have for other psychology students?
Go to your classes, sit up front, put your phone down. Don't be afraid to ask questions, that is one of the privileges of coming to a university like Webster where the classes are small and the professors are available for you. Don't put things off.
It's really easy to say "Well, I'll get to that later" and then a week before the exams you'll have power points presentations to make, you'll have papers to write and you'll have 4 examinations coming up in one week. It's about time management and to make a nice schedule every week or two and follow that.
Q: What are you future plans?
I'm starting the Psychology Master's program here in Webster next semester and that will be two years of my life. After that, one of two things will happen: I'll either stay in Vienna and pursue a psychotherapy career or I'll go back to the United States and potentially go for a doctor program or a PsyD or a mental health counseling license.
Q: How do you manage to maintain a GPA of 4.0?
Like I said, a lot of it has to do with staying on top of everything. If you take each individual thing by itself, nothing is so hard that you're unable to learn. However, when you're taking 5 or 6 classes in one term it's really easy to end up with a lot of work at the end of the semester if you always put things off.
So it means not going out all the time, it means sitting down and doing work that you don't necessary want to in that time. And just review. If you're in class and you realize you're not so sure about the new topics, and you're not understanding something, go home and read about it. If still you don't understand it, that's the time when you talk to the professor about it. Instead of waiting a couple of days before the exams.
Staying organized, make a study plan, keep time management and work hard. You have to challenge yourself to work hard.
***
News by Topic
Tag Categories
News by Topic
Tag Categories