Alumni Cocktail Evening 2019
Jun. 3, 2019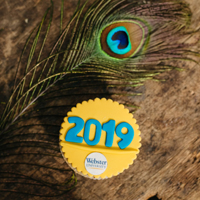 Taking place on 16th of May at spectacular Saal der Labstelle in the heart of Vienna, the Webster Vienna Alumni Association was excited to organize annual get-together of all WVPU Alumni and congratulate the Class of 2019 for becoming a part of the Webster Vienna Alumni Association!
In a warm and friendly atmosphere nearly 300 guests, including WVPU alumni, faculty and staff members, and their fellow students exchanged the greetings and memories about the days spent at Webster Vienna. We were happy to see all of the WVPU alumni generations reuniting again. All this supported by the great variety of glamorous food and drinks provided by Labstelle, for which there were lines of those willing to try. Throughout the whole event, our dear volunteers were taking Polaroid pictures of all the guests to have their memories captured forever.
Our warmest congratulations once again to the Class of 2019 for becoming a part of the broad Webster Alumni community. Wishing you to have the greatest achievements in your further life, studying and career paths. We are happy to welcome you in our Webster Vienna Alumni family and hope to stay in touch!
We are thankful for all those who have joined the Alumni Cocktail this year and looking forward to having much more exciting events in the future. Make sure to monitor our social media accounts in order not to miss the upcoming events.
To review this night's highlights please follow our Facebook and Flickr accounts.
***
Webster Vienna Private University would like to express sincere thanks to the supporters of the Alumni Cocktail 2019: DSC Hotels GmbH, Erste Group, gma services, Almdudler
***
tags:  global, vienna, vienna-alumni,
News by Topic
Tag Categories
News by Topic
Tag Categories