Alumni Spotlight: Aleksandra Mandrapa
Jan. 14, 2019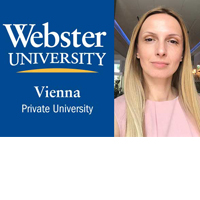 The Alumni Association had the distinct pleasure of interviewing Aleksandra Mandrapa (MBA- Class of 2008) for the January Alumni Spotlight.
This Alumna is now following her dreams see what she has to say about her time at Webster Vienna.
Aleksandra, what made you choose Webster Vienna Private University? 

At the time, I was sure I wanted to study at the American University. Matching the university I wanted with Vienna as a location (I am originally not from Vienna) seemed like a very good combination. Soon it became clear to me that I had made the right decision.
 

What are your favorite memories from your time at Webster Vienna?

Probably one of the favorite memories is the multicultural aspect of Webster Vienna, which made us look like one of the UN agencies (Webster Vienna students come from over 70 different nations as I recall). This variety was a priceless add-on to both for studying as well as group and for the social aspect through multicultural friendships.
Do you still keep in contact with anyone you met during your time at Webster Vienna?

Yes, in fact with many! It is said that the best friendships are those which you make as a student. I find that very much to be true. I am proud to say that my friends from Webster and I still hold on to each other, even if we don't live in the same city and it's been many years since we lived in the same city (I better not say how many... )

These are truly friendships for life.
What was your first job after Webster Vienna? And how did you land that job?

I studied at Webster first as an undergrad, after which I started working in a family owned company related to wholesale and production in the wood industry. Two years later, after I gathered the needed experience, I enrolled in an MBA program also at Webster Vienna. This time after I finished my studies I landed in something completely different, the world of tourism with booking.com. It seemed like both programs I did at Webster made me be very flexible and easily adaptable to any business environment thanks to the transferable skills I gained in the classroom. This good base of multidisciplinary knowledge that enabled me such adaptability was and still is, one of my major USPs I profited from with Webster..
You are currently working as the Business Development Manager at SHI Beteiligung , could you give us a short description of what you do?

I moved from the Sales Director position in a single company to being in charge for Business Development on a group level. SHI Beteiligung is a group of companies mainly active in event management, cultural tourism and the digital arena. Some of our companies, mainly in tourism and events, have been in the market for a while, some some are very new. Seeking new opportunities while using our synergies within the group is for me what I can imagine a canvas is for a painter! I have the opportunity to express my knowledge, experience and talent on a much broader scale.
You have become very successful in your field and have gone on to have an expansive career in Business Development/Sales. What would be your advice to recent graduates that are just beginning their careers?
For me the most important thing when beginning anything is determination. The second thing would be to keep the constant need for learning and upgrading your knowledge. Staying humble is important, even when we already know a lot. One must accept that there are still many things to be learned.
What have been some of the challenges in your career? And, how did you overcome them?

I believe the biggest challenge for many of us who decided to stay in Vienna after finishing university was starting from scratch in a business environment that we didn't know so well. In addition to this, for me, is the fact that at the time I wasn't fluent in German.
How do you think your time at Webster has helped you prepare for your career-oriented experiences?

My time at Webster Vienna shaped me in so many different ways. First and foremost, acquiring knowledge at Webster required our active engagement, rather than passively learning shortly before the main exam. This active engagement habit stays even after university. Secondly, this knowledge, with its practical application in almost any business situation, boosted my self-confidence. I still, when asked about my work experience, first mention where I studied.
tags:  global, vienna, vienna-alumni,
News by Topic
Tag Categories
News by Topic
Tag Categories