Alumni Spotlight – Josipa Palac
Feb. 21, 2019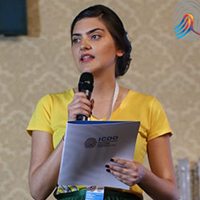 Webster Vienna Private University had the pleasure of interviewing Alumna Josipa Palac, the President and Chief Executive Officer of the International Cultural Diversity Organization (IDCO). 
Having completed her Bachelors of Arts in both International Relations and Media Communications at Webster Vienna Private Vienna, Josipa takes a unique look at diversity and how it is portrayed in the media.


What made you choose Webster Vienna Private University?

I always wanted to study abroad and discover more cultures and languages. Vienna seemed and proved itself as a perfect city; multicultural, international, with access to all of Europe.

I was very attracted to the American educational system and the open approach professors have towards student interests and inquiries.  Even after my studies, I stayed in contact with many professors at Webster Vienna Private University.  Dr. Loewstedt is a perfect example of a professor who continues to actively provide academic expertise when I seek his support.
 

You received Bachelor of Arts degrees in International Relations and Media Communications, how do you think this combination helped prepare you for your current job?

Studying both IR and Media Communications was an excellent choice. Learning and knowing more about international affairs, international law, politics, and history makes you look at media outlets in a more objective and conscientious way.

Media, be it social media or broadcast/print news, can be used as a strong tool in many ways, and I am more aware of this today than ever as the President of the International Cultural Diversity Organization (ICDO).  We use social media in promoting and achieving our ICDO goal of safe guarding diversity.
We are aware that you are now working at International Cultural Diversity Organization (ICDO). Could you tell us a bit about your current position and your experience?
I am currently the president of ICDO, an international NGO based in Vienna. Our aim is to foster intercultural dialogue through different set of activities, such as educational programs, workshops, art, music, symposiums, and much more.

One of the bigger projects that we have successfully organized was "Music and Beyond", this was a partnership based in Italy with more than 60 international musicians participating.  The project produced interests from several thousand visitors who attended our events in Italy.
We also organize an annual event in Vienna, "ICDOs Long Nights of Intercultural Dialogue", with more than 1000 visitors in attendance.
You're originally from Croatia, could you tell us about your experience living abroad?

Living abroad makes you mature faster, and pushes you out of your comfort zone. You have to engage with people different from you. Most importantly, you get to know yourself better through your experiences and even mistakes. I evolved as a person through studying abroad and being surrounded by diverse people.

We know that while studying in WV you became one of the producers of one of the first English – language online news journals called "Vienna Voice". How did you come up with the idea of establishing "Vienna Voice" and what difficulties did you face?

Vienna Voice was a class project at Webster University and I was part of its inception. Learning what the audience and readers wanted was a challenge, but producing material was worthwhile.  It is important to have a range of media outlets and choice for the English-speaking population in Vienna, as well as covering topics that might be neglected by the mainstream media.

What is your advice for future undergraduates from WV when entering the working world?

My advice would be to fearlessly and continuously explore what roles are best for you. Be ready to accept both accomplishments and failure, since you will be dealing with both in any career path you choose. Accept them as part of your career and personal development, regardless of the obstacles, continue to follow your ambitions.  The more active you are in your networking efforts, the more opportunities will appear. There is so much to discover and learn in life than what you anticipate.
To read more interviews like this one with Josipa or learn more about our Alumni, please be sure to like or follow the Webster Vienna Alumni Association on Facebook and LinkedIn.  Or, check out the Webster Vienna Private University Homepage for more news and events.
tags:  global, vienna, vienna-alumni,
News by Topic
Tag Categories
News by Topic
Tag Categories