Dr. Jaeger Uncovered Webster Vienna's Creative Side
Oct. 14, 2019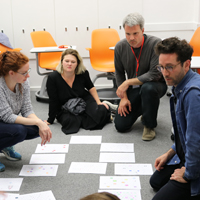 "We got to dig into our creative side which some of us didn't think we had," summarized Webster Vienna Student David Ilioski, when describing Dr. Johannes Jaeger's recent Creativity Workshop at WVPU.  Dr. Jaeger, Scientist, and Natural Philosopher hosted a Series of Lectures and Workshops at Webster Vienna, many of which left students, faculty and overall participants reflective of their realm of personal creativity.
Webster Vienna Private University was very pleased to welcome its most recent Dr. Elizabeth Chopin Visiting Professor, Dr. Johannes Jaeger, for a series of events from September 23 to 27. Dr. Jaeger, originally trained as a fruit fly geneticist, evolutionary biologist, and mathematical modeler of gene regulatory networks, has more recently dedicated himself to transdisciplinary research between the natural and human sciences, and it was this transdisciplinary perspective Dr. Jaeger shared with WVPU students, staff, faculty and alumni during his stay at the university.
On Monday, September 23, Dr. Jaeger and the Paris-based artist Sépànd Danesh led a creativity workshop called "Escape the Grid". Normally, one expects a professor to give tasks, directions, a clear description of what the outcome of a project should be. This is not, however, what Dr.  Jaeger and his colleague Mr. Danesh accomplished. Armed with only colors, pens, and a blank paper, participants were free to create whichever image, pattern, figure or story their imagination would bring. There was no limit or rule to follow.
"The creativity workshop was a unique opportunity to get out of the usual academic mindset students have and explore new ways of thinking about certain ideas. The name "Escape the Grid" was very accurate as that is exactly what we did. The workshop allowed us to go through a process of understanding Mr. Jaeger's work through fun and interesting activities," added Ilioski.
This is how the creativity workshop started. Although it focused on creativity, it is not an easy concept that can be explained. Everyone has a personal understanding of the meaning of the word, it is often related to the context and the human who creates it.
Sépànd Danesh has been trapped in his creativity corner for longer than a decade. His artwork developed with his story and experiences either pleasant or traumatic, and it still a 'work in process'. "Escaping the grid" is a simple explanation for a larger concept. Being that a blank paper, or a personal situation. It is then that art creates the escape. The workshop aimed to highlight similarities of patterns and colors among the participants' drawers and to us this as a  different way to understand relationships, common habits, and diversity.
On Wednesday, September 25, Dr. Jaeger spoke with university faculty about his ongoing research on innovation and education during a lunch whose discussion was dedicated to the challenges of 21st-century pedagogy and higher education. Later in the day, Dr. Jaeger concluded his activities as a Chopin Visiting Professor by delivering a public lecture entitled "Into the Unknown: Open Inquiry and Radical Innovation", a searching introduction to how scientific inquiry might refocus its energies towards innovative learning strategies at the heart of all great scientific discoveries.
Throughout his time at WVPU, Dr. Jaeger served as a model for the very type of innovation and inquiry most needed in our rapidly changing contemporary world.
News by Topic
Tag Categories
News by Topic
Tag Categories