Dzuljeta Kastujeva: Webster Deepened My Knowledge of the Media and How It Influences Society
May. 31, 2019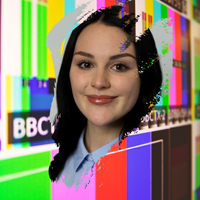 Dzuljeta Kastujeva, BA graduate in Media Communications, has shared her experiences and tips for those wishing to study at Webster Vienna. Dzuljeta describes how she deepened her knowledge of the media and how it influences society, how the broad range of elective courses available at Webster allowed her to pursue and combine other interests, and the importance of the undergraduate thesis to continuing her academic career after Webster.
by Dzuljeta Kastujeva
Throughout my life I have been fascinated with the ever-developing media trends and the effect they have on social interaction. Consequently, this led me to pursue and complete a Bachelor degree in Media Communications at Webster Vienna Private University. During my undergraduate education I have gained crucial knowledge of concepts in media communications and developed an interest in media research, production and content analysis. Webster Vienna offers variety of media courses on campus, and I chose to take both production and theoretical media classes because it was important for me to understand how media functions as a system within itself, but also, how it can be manipulated in order to gain a specific response from society.
I was also interested in how digital remix culture and internet memes modulate modern interaction and can be utilized in corporate and social influence through marketing, advertising, and PR. This interest was further stimulated after I enrolled in Special Topics: Remix Culture, Internet Memes, and Viral Media. Throughout the course of the class, I gained a better understanding of viral media and digital culture in the context of entertainment, politics and marketing and how both organizations and individuals can use internet memes as an effective tool for social influence. Furthermore, this class provided me with the theoretical framework and scholarly articles in the field of media communications, which provided significant academic support and inspiration in the creation of my own empirical research project.
The process of developing my undergraduate dissertation further stimulated my interest in new media while providing me with the necessary knowledge and skills to be successful in the Master's Program later on. It tested my ability to conduct effective research on an independent level, under the supervision of a mentor chosen from the departmental faculty. I found it particularly challenging to create a research design and manage time wisely when developing research, while balancing that on top of other courses and responsibilities. With the help of my supervisor I developed a quantitative analysis of data gathered from surveys. I explored the relationship between the use of social media networking sites and reported levels of self-esteem in university students. The research process was time demanding and requires that you to have access to a large quantity of scholarly articles. I found Webster library extremely useful as it provides access to an abundance of physical books as well as digital data bases such as EBSCOhost.
Being able to take variety of courses from other fields of interest, broadens your understanding of the topic by applying different perspectives in your analysis. I decided to enroll in several psychology classes such as Psychology of Adjustment, as I believe that psychology is a discipline that can be applied to research regarding media communications. The material that I was presented with in these elective classes was essential when working on my undergraduate thesis project, I was able to incorporate other dimensions in the study such as the social comparison theory. I believe that if I had not had an opportunity to take such a wide array of courses, I would not have been able to apply a multidimensional analysis to my thesis project. 
The Webster undergraduate experience significantly contributed to my personal and academic growth. Having the opportunity to structure the academic program according to my interests and aspirations is a significant strength of Webster Vienna Private University, that prepared me for new academic challenges ahead. The thesis process is an essential one, not only because it tests your analytical skills, but also because it functions almost as a CV, in that it depicts your academic prowess.  I would highly recommend that other media communication students pursue an undergraduate thesis, as it is fundamental for a future academic or professional career in media communications. Initially, I was reluctant to complete a thesis project, however had I not done so I would not have had the opportunity to continue my education by pursing a Master's degree in Multimodal Communication at my first-choice university Vrije. I am looking forward to continue exploring the intricacies of new media.
***
As associate professor and department head of Media Communications, it has been a pleasure to watch Dzuljeta Kastujeva grow and thrive in the program. She's been an excellent student in my courses, was quite adept at helping me with my research, and I was proud to serve as her thesis supervisor. I remain proud of Dzuljeta and wish her well in her graduate studies at Vrije in Amsterdam. We'll miss her at Webster and sincerely appreciate that she took the time to write some paragraphs on her time at Webster. --- Dr. Bradley E. Wiggins, Department Head of Media Communications, Webster Vienna Private University
***
News by Topic
Tag Categories
News by Topic
Tag Categories