Fräulein Anna: Webster Alumnus Thriving in the Heart of Vienna
Jun. 14, 2019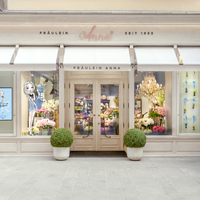 After taking over the family business four years ago, Anna Schallehn-Schmidberger realized she required greater competence in business and marketing if she was to succeed in putting her own stamp on the shop and its products. Therefore, Anna chose the MSc in Marketing at Webster Vienna to take the next step in her educational and business career.
In 1955, Anna's family became the first plastic producers in Europe and have been running their store ever since, specializing in practical plastic household items right in the centre of Vienna, around the corner from the Stephansdom. Anna originally studied molecular biology at Uni Wien/at an Austrian public university, but when it came to the decision to do her master's, she wanted instead to study at a private university.
As she put it: "At a public university, you are just a number…. Here at the university, they really care about you: about your development, about your business, about everything."
Anna chose Webster Vienna specifically because of its American education system which resonates with her, the different mentality to studying and the more open interaction with professors. At Webster, the class scheduling also allowed her to work full-time in her shop while attending classes from 6-10PM in the evenings. Though this was a stressful timetable, it was a challenge and learning curve for Anna, as such time constraints are the way of life in business.
When it comes to the academic side of life at Webster, Anna speaks in glowing terms. As the professors are often employed themselves in various industries, they are able to share their experiences and give practical insights from their own work, expanding upon rather than just relying on the theory. The professors were also open to questions about how they had implemented certain practices or what they would do in a situation and as Anna says: "The interaction with the professors is unique for Webster." For example, one professor shared his story on how he created a website for his business, which inspired Anna to update the online presence of her store. During her time at WVPU, Anna also decided to rebrand the store from its previous name of Plastic-Haus and this professor helped Anna develop her own brand, Fräulein Anna, which also became the name of the store. He advised her to register Fräulein Anna too, so since 2018 it has a European trademark.
Anna still remembers the moment her thesis idea came to her during a lecture on reporting and basket analysis, thinking "How can I implement this in my shop?" Anna decided to introduce a new reporting system to measure employee progression, something she believes she never would have thought of before Webster. She introduced employee training and a sales contest in order to assess the different motivations of different employees and could use reporting to analyse the results. The sales force and the customer experience are essential for small, family-run businesses, so Anna's thesis gave her a real insight into the importance of reporting to better understand her employees and grow her company. The reaction from her employees too has been positive, as they can see she is trying to progress both their abilities and the business as a whole.
Since leaving Webster Vienna, Anna still tries to keep up her education, though she misses the push to educate herself. As advised by another professor, she tries to keep up to date by reading American Marketing Association publications, as the United States represent for her the world leaders in the field, understanding how to best communicate with the customer. Anna also gladly invites any current Webster student to visit her at the store if they have any questions for her about her academic or business accomplishments, passing on her experience as her professors did for her. As a lasting memory of WVPU, the commencement ceremony at the Hofburg last May stands out and her cap and gown are hanging still in her living room. Compared to graduating from the public universities, WVPU makes it memorable, a day she won't soon forget:
"Every student really loves it, just to be so special on that day. And it's a unique moment."
Anna's one final bit of advice for her fellow Webster students: find a job alongside your studies at Webster. In her own experience, she got the full benefit from her education at WVPU by implementing the theory learned, by developing these skills in a professional environment. This is a "heartfelt recommendation" to be heeded by any WVPU student hoping to follow in Anna's footsteps.
by Adam Greene, Webster Vienna
***
News by Topic
Tag Categories
News by Topic
Tag Categories