Global Citizens: Moving From the National to the International Contribution
Jul. 4, 2019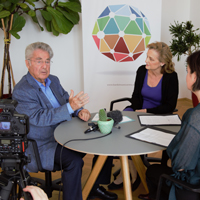 In a unique 'group' interview with incoming Webster Vienna Private University (WVPU) scholarship recipient Rania Ali, Nour Barakeh, and with Dr. Heinz Fischer, former Federal President of the Republic of Austria and co-chairman of the Ban Ki-moon Centre for Global Citizens, views were shared on a number of pressing issues in international relations, including global citizenry, youth and female empowerment and world politics generally.
With more than 40 years of experience in public office, Dr. Fischer commented the importance of youth and female societal and political empowerment: "Supporting education and youth entrepreneurship and raising awareness for global citizenship issues, are important measures to support solutions to today´s global challenges. Young people, women and men, of all cultures can make a significant contribution, no matter how small, to society, by looking beyond the narrow scope of personal or national interest to act as global citizens."
The interview took place as part of a series of interviews to be conducted this August at European Forum Alpach by WVPU students, to be later extended into a media program at our campus. It is a central tenet of the WVPU syllabus methodology to create practical learning opportunities, rather than relying on a raw theoretical education.
Rania Ali, a full-time scholarship recipient recently enrolled in the WVPU's International Relations Bachelors program, is one of many standout students awarded scholarships for the coming academic year and joins a competitive international student body at Webster Vienna.
Rania's unique journey to Europe was turned into the documentary "Escape from Syria: Rania's Odyssey", which has been viewed over 8.8 million times, won a Webby Award and also received the One World Media Award.
***
News by Topic
Tag Categories
News by Topic
Tag Categories