Global Student Leadership Summit 2019
Jun. 3, 2019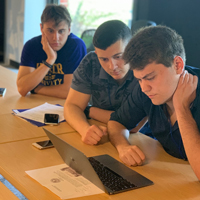 From May 27th to 31st 2019, selected students from the international Webster community descended on St. Louis, Missouri for the biennial Global Student Leadership Summit (GSLS). This year, students from St. Louis, Ghana, Leiden, Geneva and Vienna came together to exchange their valuable experiences as student leaders at their home campuses, while taking part in activities which helped to facilitate intercultural exchange and positive group dynamics.
"The Global Student Leadership Summit provided us with a unique opportunity to get insight into the functionality of the other campuses, as well as make many new friends from abroad", stated David Ilioski, from Webster Vienna Private University.
The GSLS focused on four themes, namely individual and campus leadership, communication, intercultural competency and social responsibility and the common good. By working in these areas, students could better discover their personal strengths as leaders and explore their own leadership roles at their home campuses.
"The great combination of bonding experience and exploration of different cultures helped me understand different perspectives coming from our international campuses", concluded Valentyn Trehub, from Webster Vienna Private University. "This indispensable opportunity led me to gain much needed experience that I will apply in my future career", added Ali Rasulov, student from Webster Vienna Private University.
The summit closed on the Friday with a presentation of the case studies prepared by each group and thereafter, the commencement ceremony. As a result of the GSLS, our student leaders return to their home campuses to work with their fellow students by increasing involvement in university leadership and have enhanced the connections between the students of the Webster global network.
***
News by Topic
Tag Categories
News by Topic
Tag Categories