Graduate Finance Students Climb the Schneeberg
Jul. 3, 2019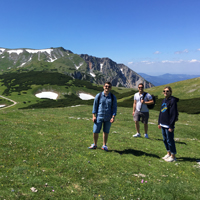 MSc in Finance graduate students in Robert Senz's FINC 5210 Investments class took advantage of Vienna's proximity to the mountains for bit of fresh air. Students traveled with their instructor to the Schneeberg, the tallest mountain in Lower Austria, stopping along the way to the summit at one of the mountain's well-known alpine huts, where they wrote their final exams. The scenic vistas provided an even more picturesque backdrop than their usual classroom setting at Palais Wenkheim! 
This excursion to the Schneeberg has become a new tradition for Summer FINC 5210 students, following its inception last year, and the department is grateful for the photographs, which you can view below. Excursions are common components of both our undergraduate and graduate business courses here at WVPU. Many thanks to Robert Senz for helping to organize the excursion. "It's a great opportunity to get out of the city and see a slice of the countryside," he told us, adding that there were "no complaints - even though students were writing their final exams!" 
If you'd like to partake in such excursions while working on your advanced degree, we welcome you to approach our Admissions team to find out more about our Master of Science program in Finance.
News by Topic
Tag Categories
News by Topic
Tag Categories