2018-19 Highlights: Academics, Athletics, Achievements and Awards
May. 20, 2019
Webster University's Class of 2019 numbers 5,000 graduates across the world, bringing Webster's total alumni to more than 200,000. Their celebrations at commencement ceremonies throughout Webster's global network cap another historic year for Webster University, and take their place among the milestone classes from Webster's history.
Their achievements highlight a world of student success at Webster, which celebrated its 100th annual commencement this month. Below is a sampling of highlights and achievements for students, alumni, faculty, staff and the University as a whole from the 2018-19 academic year:
Engagement Throughout the Network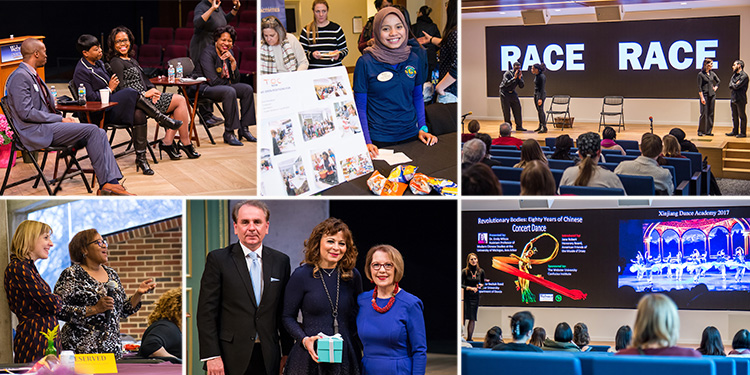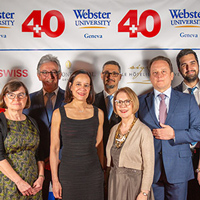 Throughout the global campus network, campuses engaged each other and neighbors in programs that expanded community engagement and leadership opportunities.
In February, the fourth annual Diversity and Inclusion Conference in Webster Groves was a tremendous success after expanding to a three-day format with a different keynote speaker on each day.
Webster Geneva celebrated its 40th anniversary and was host to the annual multi-campus "Webster's Got Talent" and student leadership gathering. Geneva also hosted a two-day conference on trauma in the fall, and its Meet The Artist series engaged the campus community with local artists while serving several integrated learning goals of the Global Citizenship Program.
Webster China was the facilitator for U.S.-China Education dialogue. … Webster Leiden hosted international speakers on humanitarian perspectives as well as 22 Webster China MBA students who met with professors and local businesses …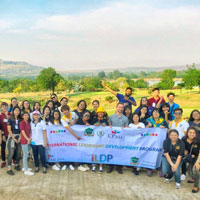 Webster Vienna hosted marketing experts through a EU-supported program. ... and in April, the Vienna campus combined a keystone seminar and a community event with developmental economist and former Red Cross representative Valentin Seidler to discuss how international relief organizations responded to Cyclone Idai's impact on Mozambique. … A student from a Webster International Network Schools (WINS) affiliate found inspiration during his study abroad experience at Webster Athens. … Webster Ghana hosted a thought-provoking lecture series that engaged the surrounding community and welcomed President Elizabeth (Beth) J. Stroble and Provost Julian Schuster for their first campus visit. …
Columbia, S.C. Counseling faculty member Jennie Band reflected on her experience in Geneva through the Sverdrup Faculty Fellowship program. …
Thailand welcomed a series of guest speakers and sent students to a variety of research conferences. ... In St. Louis, the annual Student Literacy Corps Children's Book Drive collected its 20,000th book since 2001.
Excellence in Academics, Athletics and More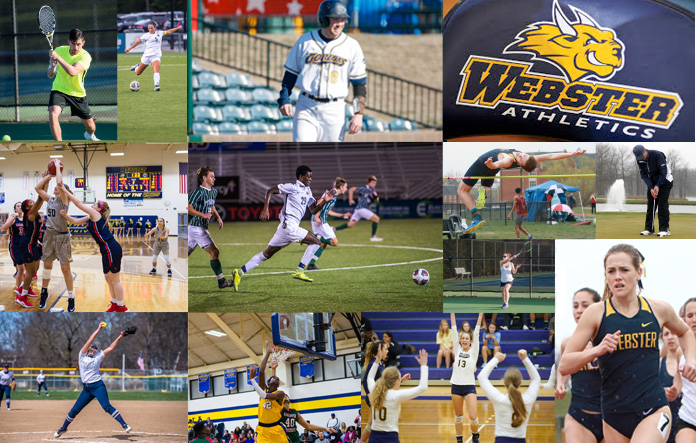 The 2018-19 academic year finished as it began: with another SLIAC All-Sports Trophy for Webster University Athletics. The Gorloks took home this award for the third year in a row, the 14th time in the last 15 years, and the 18th time in the award's 21-year history. The celebration also included two from Webster's history being inducted into the SLIAC Hall of Fame.
Notable Athletics achievements contributing to this trophy include SLIAC championships in women's soccer — which won its 300th victory all-time — women's cross country, volleyball, men's basketball, men's golf, baseball and women's track and field. Some seasons continue as of this writing, as the baseball team won its NCAA D-III regional and heads to the super regional on May 24, while sophomore Jacob Ridenhour became the first Webster track and field athlete to ever qualify for the NCAA Division III Outdoor Track and Field National Championships.
Student-athletes continued to excel in the classroom and in the community as well, with the volleyball team receiving its 10th consecutive team academic award, the softball team netting its sixth straight team academic award, and the women's soccer team receiving its 19th straight such honor. Meanwhile, Madison Watts was a finalist for a national service leadership award, Meghan Illig was a nominee for the prestigious NCAA Woman of the Year award, and Webster Athletics received a national community service award.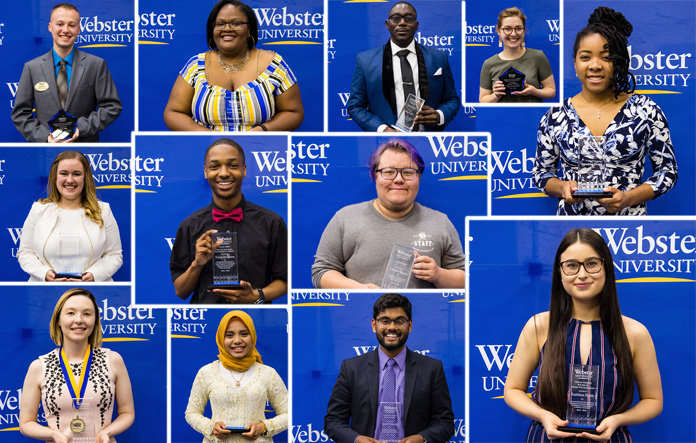 Students received competitive acclaim in other arenas, too. Among them: The chess team won its record seventh consecutive Pan-Am championship, Department of Music students won top honors at NATS auditions, the Forensic Team took home multiple awards in national competition, and The Journal received regional awards in several categories.
Webster students were honored at the annual Student Leadership Awards, and later this month St. Louis will welcome student leaders from across the network for the 2019 Global Student Leadership Summit. Other annual honors include:
Outside recognition of faculty and staff also came in many areas, including:
Alumni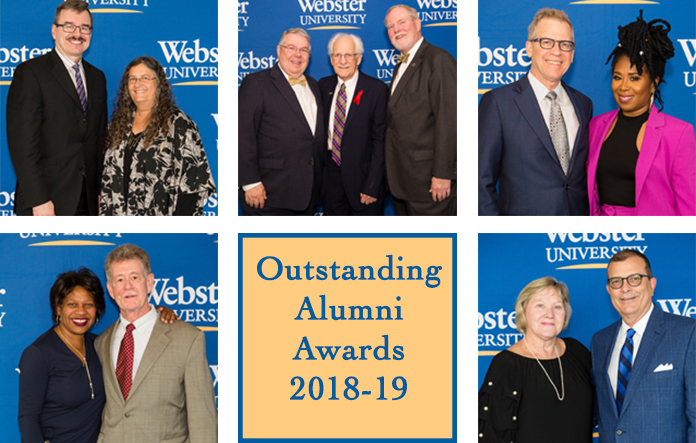 The Outstanding Alumni Award was bestowed on seven accomplished graduates. External awards for alumni included:
Research, Grants, Scholarship
The 2019 Faculty Research Grants were awarded to 24 recipients who are working on 20 projects. ... A research project begun in 1988 was continued by Webster Leiden students under the guidance of Debbie Stiles, teaching at the campus under a Sverdrup Global Teaching Fellowship. ... Nurse Anesthesia students presented their research at the annual AANA conference in Boston, with two winning awards for their presentations. ... Junior Rea Bedalli led an afternoon session at the Gateway Career Services Association spring conference, while senior Rachel Downey received the organization's scholarship. ... Webster Thailand MBA graduate student Sirilak Khetsoongnoen was accepted to present her research on tourism and hospitality marketing at the 9th AHTMM Conference in Portsmouth, England.
Webster also continues to attract and exhibit outcomes from external grants. For example: The first graduates in the Department of Education-funded five-year, $2.7 million grant for Teaching English to Speakers of Other Languages received their diplomas this month. … A $15,000 grant from Maritz was renewed to continue support of the Student Literacy Corps, which has made an impact in local schools since 1990 and has received funding support from Maritz since 2011 … Nurse educators shared their thoughts on the impact of the Nursing Education Incentive Program grant. … A $124,000 grant was awarded to Webster to encourage K12 teachers in STEM fields. … The Centre Francophone received a grant from the French Embassy to host a conference on the Quebec gaming industry. ... In March, Paul Hanstedt visited Webster as the seventh annual William T. Kemper Speaker on Excellence in Teaching and Learning for a keynote presentation and faculty workshop.
And this month, the 9th annual Global Citizenship Collaboratory will again gather Webster community members to share research, collaborate across disciplines, strengthen assessment practices, and explore new directions related to teaching and learning.
Infrastructure and Capacity Building
The renovation of the central building in the Sverdrup Complex at the main campus was completed to expand learning opportunities for students. See highlights and function in the video below:
Prior to Sverdrup, Browning Hall, the interdisciplinary science building, received two awards from the City of Webster Groves and two design awards from the architecture and design industry.
Nationally, Webster reached a partnership with Dignity Health Global Education to deliver credit and non-credit bearing programs in healthcare education. That was developed by the new Center for Innovation and Professional Development (CIPD), created to develop a wide range of collaborative programs in the public and private sectors.
Internationally, Webster expanded its offerings in Uzbekistan with a new agreement for further development in 2019.
Institutional Recognition and Awards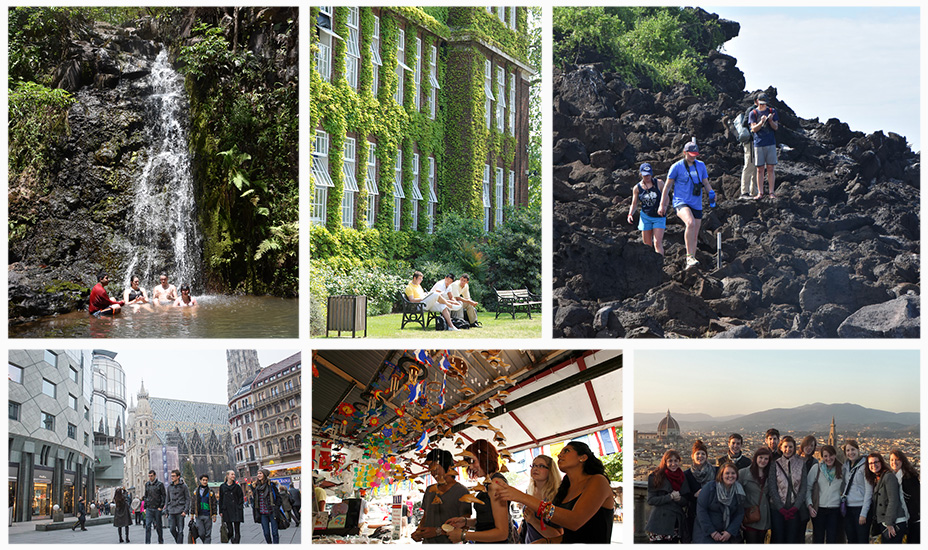 All of this combined helps Webster earn recognition in many areas. Last summer Webster's accreditation by the Higher Learning Commission was reaffirmed, and the Walker School's ACBSP accreditation was reaffirmed as well.
The study abroad program was recognized as among the best by the Department of Education's Open Doors Report, as well as by U.S. News. U.S. News also recognized Webster for its economic diversity and value, something demonstrated by growing efforts to make study abroad more accessible: This academic year 42 students received Webster study abroad scholarships to make this experience possible. Among them is an impressive portfolio of opportunities for short-term study abroad over Spring Break.
Webster was named to the Phi Theta Kappa Transfer Honor Roll for the third consecutive year. Transfer student Fayeshun Brown graduated summa cum laude and was selected as Words of Inspiration speaker for the 100th Commencement weekend, where a contest-winning design by Sarah Lafser '15, herself a transfer student, was unveiled as the new Webster University seal.
Elsewhere, in 2018-19 Webster was:
Webster in the News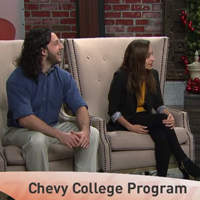 A sampling of the media coverage and showcase of expertise that stories like these garner:
Commencement speaker Katy Sullivan '02 was interviewed on live TV and in print. … President Elizabeth (Beth) J. Stroble and Chief Diversity Officer Vincent C. Flewellenin the Post-Dispatch as well as Gazelle magazine for their perspectives on diversity and inclusion efforts. … President Stroble and Provost Julian Schuster were also featured in Ghana for Webster's approach to international education. ... Nicole Miller-Struttmann was on St. Louis Public Radio discussing her bee research, while earlier in the show Eric Goedereis discussed millennials from a sociological perspective. ... Students who won the Chevy Local Marketing Challenge were interviewed on CBS affiliate KMOV News. … School of Communications Dean Eric Rothenbuhler,  and alumnus Tom Lange '07 were interviewed on Fox2 News as part of Lange's return to Webster to discuss Union Pacific's planning of the Bush Funeral Train. ... Orreste Fopiani was on Italian radio discussing immigration crises in the Mediterranean. ... Emmanuel Balogun in the Washington Post on developments in Sudan. … Vienna's Jozef Batora was interviewed on Austrian TV about uprisings in Slovakia. … Warren Rosenblum and Stephen Miller published an op/ed on roots of anti-immigration sentiment.
See many more media hits featuring faculty/staff expertise or major events coverage through the Webster In The News feed in the newsroom.
tags:  academics, alumni, college of arts and sciences, college of fine arts, employee news, extended campus, faculty, global, home page, online learning, school of business and technology, school of communications, school of education, webster life, webster today,
News by Topic
Tag Categories
News by Topic
Tag Categories