Influential Political Scientist, Professor Iver B. Neumann, Joining the IR Department and WVPU Campus from September 9th to the 13th
Sep. 2, 2019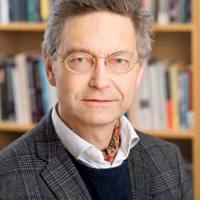 Top Norwegian political scientist and social anthropologist, Iver B. Neumann, returns to Webster Vienna Private University this fall for a series of private and public lectures focused on trending international relations topics.
In addition to teaching select courses, students and attendees of his lectures will have the opportunity to meet and learn more about Professor Neumann's research on "What does a state see as a crisis and how does it turn one to its advantage?" at the IR and Politics Research Seminar, hosted on September 11, 2019 from 2:00 pm until 3:30 pm at Webster Vienna.  
Professor Neumann is Director of the Norwegian Social Research at the Oslo Metropolitan University and Adjunct Professor at the Museum of Cultural History, Oslo University. He was Montague Burton Professor of International Relations at the London School of Economics 2012-2017, Director of Research of the Norwegian Institute of International Affairs 2009-2011 and Professor of Russian Studies at Oslo University 2006-2008. His work on Russia and its role in international relations, on identity formation in IR and on diplomacy as an institutionalized practice make him one of the most-cited and most influential social constructivist IR scholars.  Professor Neumann has also had numerous articles and books published in leading peer-reviewed journals and leading publishing houses. His most recent book is "The Steppe Tradition in International Relations. Russians, Turks and European State Building 4000 BCE–2017 CE" (Cambridge University Press, 2018, with Einar Wigen).
***
News by Topic
Tag Categories
News by Topic
Tag Categories