Living a Life Worth Living at Webster Vienna
Oct. 1, 2019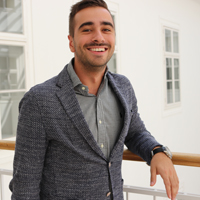 One of the Webster Vienna's outstanding students, Samuil Pavlevchev reveals the path he walks and in what direction he is heading.
A Bulgarian senior student majoring in Psychology and minoring in Philosophy, he is probably known by the entire WVPU student body for his obsession and devotion to psychology and philosophy. He can usually be found in the laboratory conducting some neuro-psychological study or reading a thick book around the Webster campus.
Not only is his academic success worth mentioning but also his engagement in student life. Refraining from giving answers about himself, Samuil explains that he had always liked Socrates' dictum stating that an unexamined life is not worth living. He points out that this dictum is demonstrated in numerous works of literature, giving the example of Dostoyevski's character Raskolnikov who – only after much contemplation and suffering – finally found peace in his life.
"Freud was the first to show us how to examine the self. The importance of self-examination was then undertaken by the psychoanalytic movement to arguably give birth to the field of Psychology as we know it", states Samuil. "There is much examination lying ahead of me and a premature answer is necessarily an irresponsible one", he concludes.
As one of the founders of and now president of the Philosophy Club, Samuil has been a part of the local Student Government Association since coming to Webster Vienna in 2016. Samuil added, "The romance of returning to your father's home can be a strong drive in one's life. Thus, it is understandable for a Psychology student to want to go to Vienna and see the city of Freud. Inevitably, this was among the influences that led me to choosing my path, but it surely was not the only impulse that drove me".
"One must admit that Vienna is an extremely seductive city, forget about Paris, a perfect combination between the province and the metropolis. It is also seductive because of its insistence on keeping the European spirit. The great hopeless romantic George Steiner, in his essay 'The Idea of Europe,' conceptualizes European culture as a 'café culture.' - #Europe is made up of coffeehouses, of cafés. These extend from Pessoa's favorite coffeehouse in Lisbon to the Odessa cafés haunted by Isaac Babel's gangsters. They stretch from the Copenhagen cafés which Kierkegaard passed on his concentrated walks to the counters of Palermo#. Steiner further explains that Vienna has long been the heart of this culture and has arguably remained one of the few places that still cherishes the treasure of café culture. How is one not to choose Vienna?"
First place winner in the Webster Graduate Research Summit with his thesis project poster, Samuil was also awarded the Outstanding Senior 2019 award. He has also published a conference paper during NeuroIS 2019.
Samuil shared with us that it was his drive for knowledge and search for proper teaching that brought him to Webster Vienna. "Plato had Socrates, Aristotle had Plato, Freud had Breuer, and Nietzsche had Schopenhauer. Hence, I figured that I must find my teacher. However, what are the chances of finding the intimacy that a student-teacher relationship provides in the over-crowded lecture halls of public universities? Maybe decent, but I gathered that a small classroom where I can ask my questions, show my desire and get noticed is a safer bet. At the end of the day, all it took for me was desire. I wanted to read more, I wanted to stay after class and speak with the teacher and Webster allowed for all that. Thus, I found my teachers here. And now all that is left is to examine, is to see who Samuil will become."
His Bachelor's thesis focused on the way our unconscious or subconscious perceives stimuli presented for extremely short durations of time. To do so, he used EEG brain imaging technology to record the brain activity of people looking at such stimuli, and compared their consciously processed self-report to their sometimes-unconscious changes in brain activity. "I intend to publish that research in the near future, and I have no doubt that there is more to come," he adds.
What is next?  
He answers this question and ends our interview by coming full circle: "Eventually, living a life worth living."
***
News by Topic
Tag Categories
News by Topic
Tag Categories