Media Communications Department Get-together was a success!
Feb. 5, 2019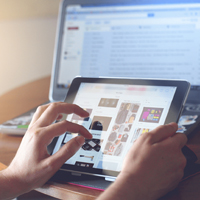 Dr. Wiggins kicked off the evening with words of welcome and introduction of faculty members Dr. Meng Chen and filmmaker and adjunct faculty member Phil Moran, followed by presentations about internships, portfolio review, and thesis development from our current Media Communications students Loren Sandoval and Evgeny Kandybko as well as our alumni Ellen Faye Adams (BA'19), Josipa Palac (BA'11 with a double major in Media Communications and International Relations) and Toni Pehar (BS'10 in Business Administration).
After their graduation Josipa and Toni as well as other WVPU Alumni assumed positions in various international organizations and later founded their own Vienna-based NGO called ICDO (International Cultural Diversity Organization).
All of them shared their diverse experiences and took us on a virtual travel through different countries and intercultural projects. A stunned audience followed their journeys and many students showed interest in joining ICDO for an internship.
The event was very well received from all attendees for their interactive presentation format and networking character.
The Media Communications Department would like to thank all presenters and is looking forward to the upcoming events in February, March and May 2019. See you there!
News by Topic
Tag Categories
News by Topic
Tag Categories