Message to the Community from the President, the Provost and the Chief Diversity Officer
Apr. 22, 2019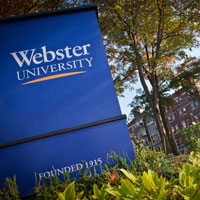 The following message was distributed from the President, the Provost, and the Chief Diversity Officer to the Webster University community.
This is a time of year that invites our reflections on the larger meanings of spring's vibrant return. This is natural in our academic community because exam and project deadlines loom. The close of another academic year quickly approaches. We anticipate the historic celebration of Webster's 100th Commencement on the new MUNY stage and know that with the joy of accomplishment we also experience the anticipations and anxieties that accompany the unknown.
This past weekend's terrorist attacks in Sri Lanka, coincidental with the tragic anniversaries of the Oklahoma City bombing and Columbine School massacre, are a sobering reminder of the cruel attempts to destroy the fabric of our communities.
We can only imagine the impact of the fire at the Al-Aqsa Mosque in Jerusalem, while with horror and fear we learn about the targeting of three Black churches in Louisiana. Sadly, we recognize this pattern. These tragedies occurred in the spaces which possess special and deep meanings to people around the world. Indeed, in some instances the members of faith communities have been targeted as they gathered in these spaces for sacred rites. While earlier in the week attention focused on the damaging fire at the Notre Dame Cathedral, we now contemplate the grim and devastating losses of life.
As members of the Webster community, we experience these events deeply. We are members of a global community, and we know that an attack on any of us is an attack on all of us. We resist expressions of bigotry, hatred, and violence. We defend the diversity of expressions of spiritual belief where those are present.
Since our fall gatherings on the Webster Groves campus for a prayer vigil and an interfaith panel, student leaders have led the effort to relocate an interfaith gathering space in Webster Hall in a more accessible location than its previous location in Schultz Hall on Eden's campus. Thank you to those who have made this possible.
Because it is important at these moments to gather as a community and to find solace in each others' company and in places that provide for safe reflection, we will plan opportunities in the coming week for these to occur. Please watch for more information, and in the meantime, let us hold each other in safekeeping.
Elizabeth (Beth) J. Stroble, Ph.D.
President
Julian Z. Schuster, Ph.D.
Provost, Senior Vice President and Chief Operating Officer
Vincent C. Flewellen
Chief Diversity Officer
tags:  employee news, faculty, global, home page, president, provost, community engagement, diversity and inclusion, webster today,
News by Topic
Tag Categories
News by Topic
Tag Categories