Microsoft Career Lunch
Apr. 17, 2019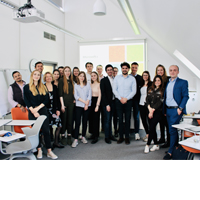 Webster Vienna's Career and Placement Service department hosted Microsoft Lunch for more than 20 students. They had a chance to discuss with Marlies Strobl, Human Resource officer and Erdinc Dudu, Digital Advisor at the Microsoft Vienna headquarter, as well as Rafael Rodrigues Radischat, Webster alumni and current Microsoft Partner Development Intern.
Students emphasized that this was a great opportunity to learn about the company and its  career opportunities. Insights, such as working environment, driving-motives and sheer-culture were shared. The most interesting part was Microsoft's recruitment process. "Now that we know how it works, get ready to find space for 20+ new employees", concluded Alexandra Deubner, Senior Career Development Officer, at the end of the lunch.
Special students' recognition was expressed to the guests for their efforts, time, and shared insights.
***
News by Topic
Tag Categories
News by Topic
Tag Categories