Webster Athens Hosts Nobel Peace Prize Nominee Ion Lazarenco, 'Swim of Peace'
Jul. 9, 2019

During the last days of June 2019, Webster University Athens students, faculty and staff had the honor to welcome the Moldavian humanitarian, marathon swimmer and candidate for the Nobel Peace Prize, Ion Lazarenco Tiron.
His speech echoed his background as a Moldavian immigrant and his vision of contribution for his birthplace.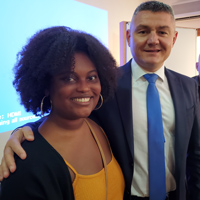 Lazarenco is the eighth man in the world to take on a challenge to conquer the Seven Channels around the world and the first to accomplish it from his first attempt. Overcoming nature's difficulties of weather, swimming right above a Great White Shark, massive jellyfish and waves that go up to 8 meters, his drive to relay his message of peace to the world carried him through times of giving up.
He was named the 2018 World Open Water Swimming Man of the Year by the World Open Water Swimming Association.
The audience at Webster's Athens campus met his emotional speech and his advice to young generation with enthusiasm. According to one of the study abroad students from Webster University, Dana Rue, "Mr. Lazarenco is living proof that regardless of age or place of origin, we can do anything we set our mind to."
When asked why he chose swimming, he responded with the symbolism of sports from the ancient Greek times, meaning that sports brings unity and peace amongst nations. From the moment an open-water swimmer leaves the shore, he/she is unable to touch or encounter anything until reaching the destined land; hence, the achiever forms an imaginary bridge of Peace between countries.
This is a bridge of humility, a passage to love and be kind to one another, to oneself, and to the environment around us. His "swim of peace" calls out to all of us to take immediate action of transcending this purpose and setting a positive path for others to follow.
The Webster Athens audience wished Lazarenco all the best for his peace campaign and his upcoming book, and they look forward to hosting more of such inspiring individuals on our campus.
tags:  academics, global, home page, webster life, athens, study abroad, community engagement, webster today,
News by Topic
Tag Categories
News by Topic
Tag Categories