ÖPUK Marks 20 Years of Austrian Private Universities Anniversary
Jun. 24, 2019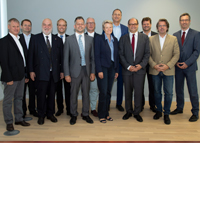 At the press conference, held within the premises of the Sigmund Freud Private University in Vienna, the Austrian Private University Conference (ÖPUK) marked its 20th anniversary today by presenting its achieved results, current developments, and future plans.
During the conference, mag. Elmar Pichl, Head of the University section of the Federal Ministry of Education, Science and Research (BMWF), Prof. Dr. Karl Wöber, ÖPUK President and rector of MODUL University Vienna, Prof. May. Dr. Stefan Hampl, and Prof. Dr. Sabine Schindler, ÖPUK board members had the opportunity to present the retrospective of the achieved results, ongoing developments and to discuss the future orientation of the private university sector for the next few years.
Since 1999, Austrian private university education has built its presence in the form of 14 private universities throughout Austria. Overtime, more than 18,000 students have graduated from private universities in Austria. Currently, in this academic year, ÖPUK noted a student enrollment increase of approximately seven percent or 14,500 students enrolled in private universities.
"Although, private universities are considered as the youngest part of the Austrian higher education system, achieved results over 20 years, current developments and future plans prove their commitment to the quality of study programs for every educational institution that wishes to name itself a private university." concluded Univ.-Prof. Dr. Johannes Pollak, Director of Webster Vienna Private University and Professor of Political Science at Webster Vienna Private University.
More about ÖPUK
***
News by Topic
Tag Categories
News by Topic
Tag Categories