Director, Johannes Pollak, Co-Edits Book on Political Representation
Jan. 11, 2019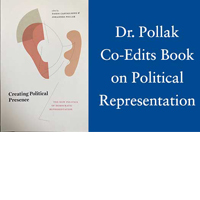 Dr. Johannes Pollak recently co-edited the book, Creating Political Presence: The New Politics of Democratic Representation, with Dr. Dario Castiglione.
Amidst the chapters lie thought-provoking contributions on representing future generations, representation in the era of the Internet, representation and populism, and democratic inclusion.
More information on the book can be found here.
News by Topic
Tag Categories
News by Topic
Tag Categories